Even though employers added 290,000 jobs to payrolls in April, the unemployment rate inched closer to 10 percent and there's more competition from 800,000 out-of-work Americans who jumped back into search mode last month.
Since the job market isn't rebounding fast enough for some people, there's a growing group who are getting creative. They've given up their quest for one perfect job, and instead have settled on a slew of small jobs, often called gigs. And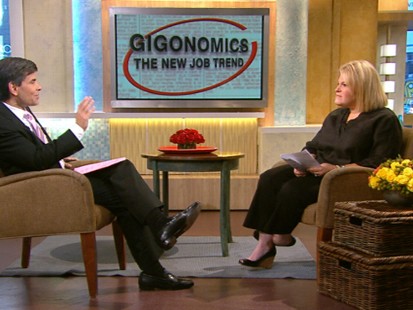 for them, the juggle works.
If you're experiencing the challenges of finding the right full-time opportunity, and you're wondering if multiple jobs may be right for you, there are several issues and steps to consider.
Expert time management skills are a must. When juggling multiple jobs, you'll have to move seamlessly from one task or location to another. That means you'll always have to hone in on what has to be done and then move on. Your weekly schedule will not only focus on doing your work, but also on seeking new projects. Most jugglers are always on the hunt for the next project or assignment so they don't experience a lapse in time or money between gigs. An hourly calendar that offers a week-at-a-view will serve you well.
Perform a thorough skills assessment. In a full-time job, you're likely focused on one core task that you perform every day using a specific skill. For example, you're the administrative assistant, the graphic designer or the sales associate with very little variation. But as a gig worker you may be all of those things—and more—in any given week. Your work need not be limited to just one area of focus, so make a list of all of the things you know how to do, including things you've never been paid for.
For example, someone who's handy around the house, but has never been paid as a handyman, can list that as a potential skill to put to work. Don't hold back on this master list.
Search online and talk to contacts. Take the specific skills on your list and plug them into online job boards along with terms like freelance, temp, part time and short term to see what type of opportunities pop up. Talk to people you know who juggle multiple projects -- ask where and how they learn of opportunities—and ask for recommendations of the best places to look.
Tell everyone you know that you've made this shift—instead of looking for that one perfect position, you're moving in this new direction. Also many gig workers operate virtually, which means their work is done online. Think about virtual assistants, publicists, marketing strategists, sales professionals, technology gurus and more. Their clients can be anywhere, which broadens their potential base.
Sites to peruse for freelance or gig work: Elance.com, PeoplePerHour.com, Odesk.com, Guru.com, Craigslist.com, SeniorHelpers.com, WorkingSolutions.com, VIPdesk.com, Arise.com, LiveOps.com, Monster.com, CareerBuilder.com, SnagAJob.com. While the Internet can be one place to find work, word-of-mouth among people you know and referrals from satisfied clients are extremely powerful for winning these assignments.
Focus on getting beyond the clouds. Figuring out all of this can be murky, so be forewarned. It can feel overwhelming and the pace seems unsustainable. You can't see clearly—it's all a blur. It's sort of like flying through the clouds. So take a deep breath and imagine yourself getting out of the clouds…and ultimately seeing the clear skies. Those who are successful with this new work style thrive on organized chaos. An outsider may look and say it's a dizzying schedule, but to them it's completely organized and they couldn't imagine it any other way right now.
It's ok if it's not for you. Plenty of us would prefer—and are better suited—to work one job for one employer. That's really important to recognize in yourself. This may not be right for you over the long haul. But if your preference is to have that one steady job, and that's just not happening for you right now, then this is an option to pursue. You may go the gig route by choice or circumstance. Choice because you thrive on variety; circumstance because you need a paycheck right now, but aren't finding a traditional opportunity. Evaluate your realistic options and go for it.
Tory Johnson is the workplace contributor on ABC's Good Morning America and the CEO of Women For Hire. Talk to her at Twitter.com/ToryJohnson.