Jacques Pepin's Grilled Pork Chops
Recipe Courtesy of Jacques Pepin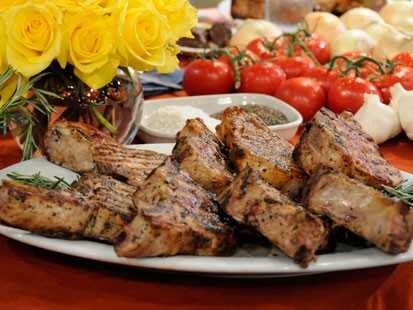 From the kitchen of Jacques Pepin
|
Easy to make, hard to resist. Julia Child and Jacques Pepin share this recipe from the companion book to their 22-part PBS series.
It requires special equipment, including a ridged stovetop grill, one half of a large potato, cut crosswise, and a baking dish or ovenproof platter for resting the chops, or a metal bowl to cover chops on the grill.
Recipe copyright Julia Child & Jacques Pepin ©1999; from Julia & Jacques Cooking At Home ©1999 by Knopf
Ingredients
2 center-cut pork rib or loin chops, each about 10 ounces, 1 1/4 to 1 1/2 inches thick
1/2 teaspoon salt
1/2 teaspoon black pepper, freshly ground
1 1/2 teaspoons rosemary leaves, chopped fresh
1 1/2 teaspoons corn or canola oil
Fresh rosemary sprigs, for garnish
Cooking Directions
Preheat oven to 180 degrees Fahrenheit.
Trim loin chops of excess fat and sinew.
Sprinkle both sides of the chops with the salt, pepper, and chopped rosemary, and pat the seasoning, so they adhere to the meat.
Pour the oil into a plate and dip in the chops on all sides to coat lightly with oil.
Set the grill over high heat and allow it to get quite hot.
Lay the chops at an angle to the ridges and cook for 2 minutes, until clearly marked.
Turn them over, keeping the same angle, so the now visible marks align with the ridges.
Cook for 2 minutes in this side.
Turn the chops over again and now rotate them as well, so the visible marks are perpendicular to the ridges.
Cook for 2 minutes, until a crisscross is clear.
Turn the chops over for the third time, keeping them at the same angle.
Cook for 2 minutes, so that the second side of the chops has been on the grill as long as the first side.
Finally, stand the chops on their outside edges, balanced against the potato half or other prop.
Brown for about 2 minutes, shifting the chop as needed so the entire edge is browned.
Remove the chops to a platter and place in the oven for about 10 minutes, to allow them to decontract.
Garnish with a sprig of rosemary and serve.
Other Recipes That You Might Like