Maybe it's a sign of the times that home gardening is on the decline. Before, people would spend their time in the back yard. Now, they spend their time in their virtual back yard -- the Internet.
Britta Riley is merging the two by creating The Windowfarms Project, and she appeared on "Good Morning America" today to talk about her program.
On her website, Riley has a do-it-yourself manual posted that over 10,000 people have downloaded to create their very own individual vertical hydroponic window farms.
CLICK HERE to go to the website for the how-to manual.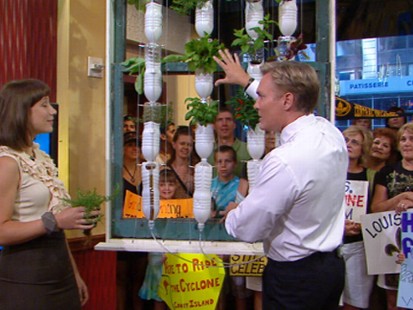 You don't even need soil. All you do need is time, a little patience, some love, and an easy kit which you can either make yourself or buy from the website. And pretty soon you will have your own edible vertical hydroponic garden.
Click HERE to learn about a children's urban farming initiative.
New York City hipsters are using recycled water bottles, clay pellets, plastic tubing, and inexpensive fish tank air pumps to create their indoor gardens.
According to the United Nations estimates, the world's population is expected to grow by 3 billion people over the next 40 years. With depletion of agricultural land, hydroponics looks to be a path to sustainability -- producing more food per acre without depleting the nutrients of our soil.
But don't think of this as a local phenomenon, people from as far away as Hong Kong, Israel, and Italy have downloaded the instructions. They're not only downloading, but also sharing video and images of their very own windowfarms on Britta's site.
Britta was recently featured on NPR, afterwards, there were so many people that visited her web site , that it crashed. Seems like the home gardening movement is starting to grow; vertically.
For more information about vertical farming, click HERE.