Man uses his company's bucket truck to visit mom quarantined on 3rd floor of nursing home
When this man wanted to visit his mom in a nursing home, he got creative.
When one Ohio man wanted to visit his mother in an assisted living home amid a coronavirus facility lockdown, he got creative.
On March 22, Charley Adams, 45, decided to take his company bucket truck to visit his 80-year-old mother, Julia Adams, who lives on the third floor of a nursing home in New Middletown, Ohio.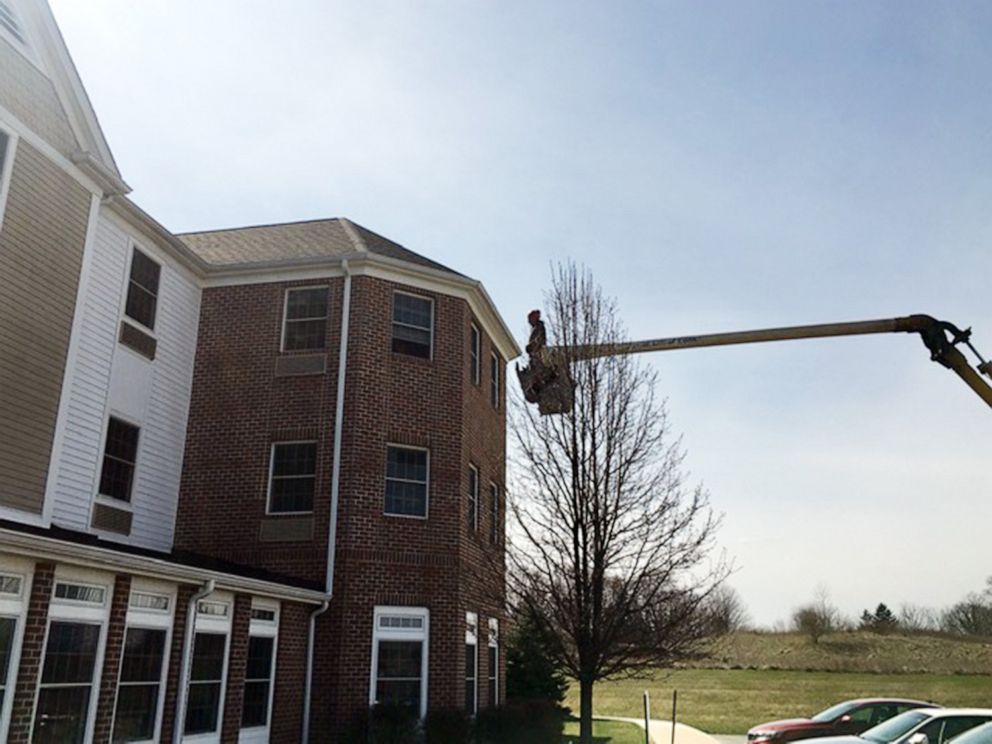 Amid the pandemic, the assisted living facility is currently in lockdown and no visitors are allowed, said Adams.
"[My mother] kept calling me and saying she wanted to go out to dinner," said Adams, who typically takes his mother to lunch or dinner twice a week. "I kept explaining to her, 'Mom, that's not possible ... you can't do that right now.' She was getting a little bit frustrated and disappointed."
As the virus continues to spread, assisted living facilities and long-term elderly homes have been hit especially hard. Adams, who said he commends the nursing home staff for their hard work during the crisis, wanted to respect all safety guidelines.
When Adams' mother saw him at her third floor window, she was definitely surprised, he said.
"She [said], 'Oh, my awesome kid, what are you doing?'" according to Adams, who said his mother calls him "awesome kid."
"[My mother] loves trucks. When I was a little boy, she used to take me to look at trucks, tractors and other equipment," he added.
Adams said he's glad his story is getting so much local attention on Facebook.
"[Friends and family] are calling her. It's been really great because all of the phone calls really cheer her up," said Adams.
Ultimately, Adams said he hopes that this story can spread that same cheer.
"If this little story can make somebody, even if it's just for two seconds, smile. It means we're doing something right," Adams said.