There are thousands of toys parents can choose to buy this holiday season. But which ones will children enjoy that are still easy on the wallet?
"Good Morning America," Parenting magazine and Good Housekeeping magazine got together and picked their favorite toys this holiday season. Children will love the fun and parents will love the price – all of the toys are under $30.
"Good Morning America" Producer Picks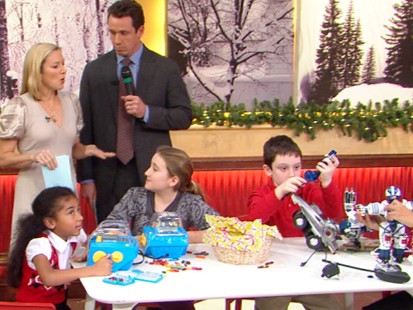 Hundreds of toys were sent to the "
Good Morning America
" offices this season. Here are the "GMA" producers' favorites.
Toy: Crayola Crayon Maker
Ages: 8 to 15.
Price: $29.99.
By combining small pieces of used crayons children can create new crayons in swirled color combinations.
Toy: Robot Galaxy
Ages: 4 to 10.
Price: $29.99.
This toy is billed as the American girl doll for boys. Children can play with eight robots that can be programmed to say children's names and nicknames. Each robot is interchangeable and kids can create more than 1,000 combinations.
The robots can also connect to the computer via a USB cable and children can play computer games with them.
Toy: Marshmallow Fun Company's Marshmallow Shooter
Ages: 6 and up.
Price: $18 at drugstore.com.
This classic toy creates lots of action for children. It can rapid-fire mini-marshmallows more than 30 feet.
Parenting Magazine Picks

Parenting Magazine rated its toys based on children and parent feedback. The products do not have small parts or annoying loud noises.
Toy: Chimp and Zee Silly Socks
Ages: 3 to 5.
Price: $15 at Borders stores nationwide.
This game is a variation of "Go Fish" for your preschooler. Children try to match pairs of socks in the laundry baskets.
Toy: Drive, Chip and Putt Golf Trainer
Ages: 2 to 6.
Price: $24.99 at littletikes.com.
The ball is tethered to the tee so children can use it indoors or outdoors.
Good Housekeeping Magazine Picks
In its December issue, Good Housekeeping magazine announce the winners of its Best Toy Awards. The magazine evaluated the safety and reliability of each toy at its Good Housekeeping Research Institute, which also included a "fun factor" test by more than 55 children.
Toy: SpongeBob Bikini Bottom 500 TV Motion Controller by Jakks Pacific
Ages: 5 and up.
Price: $30.
This controller plugs into the television and can act as a steering wheel for players to drive cars on an on-screen track by moving the stick. This activity also gets children up and moving around.
Toy: WowWee FlyTech Hoverpod
Ages: 8 and up.
Price: $20.
This remote-controlled toy uses a fan to glide across smooth surfaces. It is a lightweight toy with a foam body which means it is durable for children without leaving marks on walls or floors.
CLICK HERE to return to the "Good Morning America" Web site.