Clinton Street Baking Company's Coconut Lemon Curd Cake
Recipe Courtesy Clinton Street Baking Company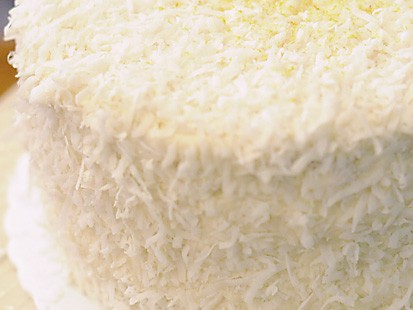 From the kitchen of Clinton Street Baking Company
|
This cake always reminds us of a giant snowflake, which is why we haul it out during the winter, when people are up for a thick, delicious dessert.
Ingredients
Lemon Curd
½ cup freshly squeezed lemon juice
½ cup plus 2 tablespoons sugar
1 stick (8 tablespoons)
unsalted butter
2 large eggs
Cake
2½ cups cake fl our
(measure, then sift)
1¼ cups sugar
1 tablespoon plus 1 teaspoon
baking powder
¾ teaspoon salt
1½ sticks (12 tablespoons)
unsalted butter, softened
1 tablespoon canola oil
1 cup whole milk
1½ teaspoons vanilla extract
5 large egg whites
Frosting
8 ounces cream cheese
(not whipped)
½ stick (4 tablespoons)
unsalted butter, softened
4 cups confectioners' sugar
½ cup whole milk
16 ounces sweetened coconut flakes
Cooking Directions
Make the Lemon Curd
Boil the lemon juice, sugar, and butter in a medium saucepan. Whisk the eggs together in a large bowl. Pour cup of the lemon mixture into the eggs and whisk together. Add the egg mixture back into the pan with the remaining lemon mixture. Cook on low heat, stirring, until thick, and then strain (use the finest strainer that you can find). Cover and cool in the refrigerator until ready to assemble the cake.
Make the Cake
Preheat the oven to 350°F. Lightly grease and flour an 8-inch round cake pan.
Mix together the fl our, sugar, baking powder, and salt. Add the butter and oil and mix until small pea-sized balls form. Add the milk and vanilla and mix until smooth. In a separate bowl, whip the egg whites until medium peaks form (this will take 4 to 5 minutes by hand, 1 to 2 minutes if you are using an electric mixer with a whip attachment). Fold the whipped whites into the batter (you should not be able to see any whites, and the batter should look light and fluffy). Pour the batter into the prepared pan and bake for 30 to 35 minutes, until a toothpick inserted in the middle comes out clean.
Let the cake cool, then unmold.
Make the Frosting
In the bowl of an electric mixer, cream butter and cream cheese till soft. Add the confectioners' sugar, blending in 1 cup at a time. Add the milk slowly, as needed, and mix until the frosting is smooth and creamy.
Assemble the Cake
Slice into 3 layers with a long serrated knife.
Reserve the bottom layer. Place another layer on a serving plate. Using a pastry bag, pipe circles of lemon curd on the top using half the curd. Place a second cake layer on top of the first and repeat with the remaining lemon curd. Top with the reserved bottom layer. Refrigerate for 10 minutes to allow the cake to set.
Ice the outside of the cake with the frosting. Gently apply coconut to the top and sides of the cake. The frosting will act as a glue to hold the coconut.
Click here to check out the Clinton Street Baking Company's cookbook
Recipe Summary
Main Ingredients: lemon juice, sugar, eggs, butter, cake flour, canola oil, milk, vanilla, cream cheese, coconut flakes
Course: Party Platter, Cookies, Dessert, Snack
Other Recipes That You Might Like