Since 2009, Arielle Charnas has been inspiring readers of her fashion blog, Something Navy, with her carefully-curated photos and sartorial tips.
Now, her fans -- and there are 1.1 million of them on Instagram alone -- will have the opportunity to buy pieces designed by Charnas herself when she debuts her new line at Nordstrom.
The September 2018 collection is a love letter to her followers, Charnas told "GMA," adding that the designs were inspired by feedback she's received from readers.
"I'm literally just making things that I want that I can't find in the marketplace," she said. "It's a dream come true to have the opportunity to do that: to make things you want to wear every single day. The quality's really fantastic, the price is fantastic and we really jumped on the right color trains."
Every piece in the collection is under $200 and comes in sizes 00 to 18, or XXS to XXL. Denim sizes are from 23 to 34, and shoes are 5 to 12.
Charnas spoke about the line, a few of her favorite pieces and what consumers can expect from her collection.
These products were curated by the "GMA" editorial team. "Good Morning America" has affiliate partnerships, so we will get a small share of the revenue from your purchases through these links. All product prices are determined by the retailer and subject to change. By visiting these websites, you will leave GoodMorningAmerica.com and any information you share with the retailer will be governed by its website's terms and conditions and privacy policies.
Price: $79
Charnas, who is seen above wearing this sweater in pink, loves this piece's "super soft" material and expects it to be a best-seller. "I noticed the most engagement my photos get are when it's cold out and I'm wearing a bright color," she noted. "I felt like it was time to take those winter, fall staples and add color to them!"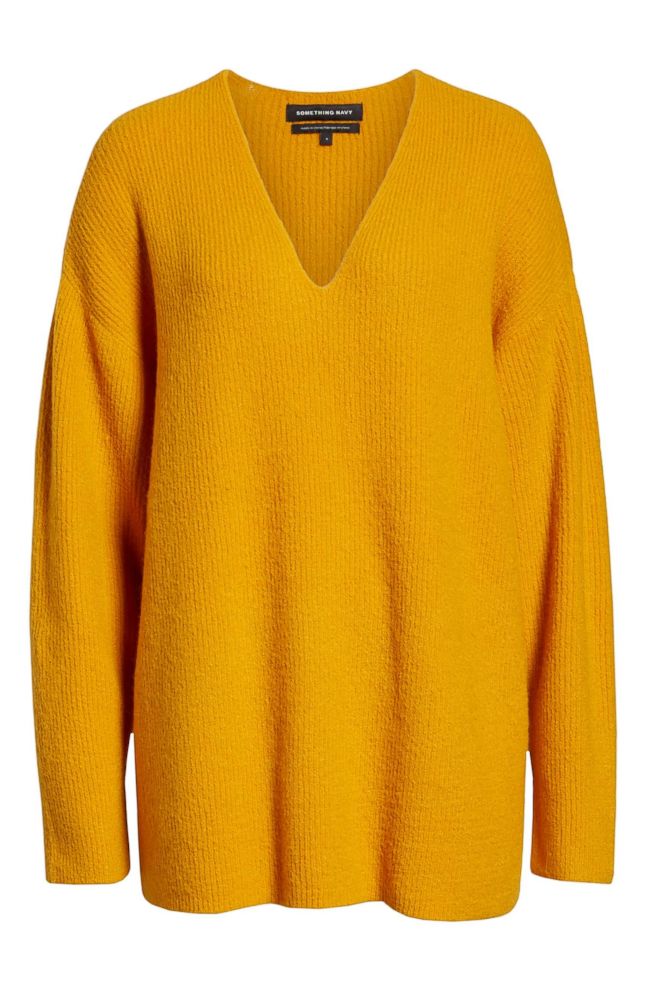 Stand Collar Button Through Shirt
Price: $75
nordstrom.com
"We have some really great button downs with a twist," Charnas said, noting that this was one of her favorite pieces. "They're classic but a little bit trendy."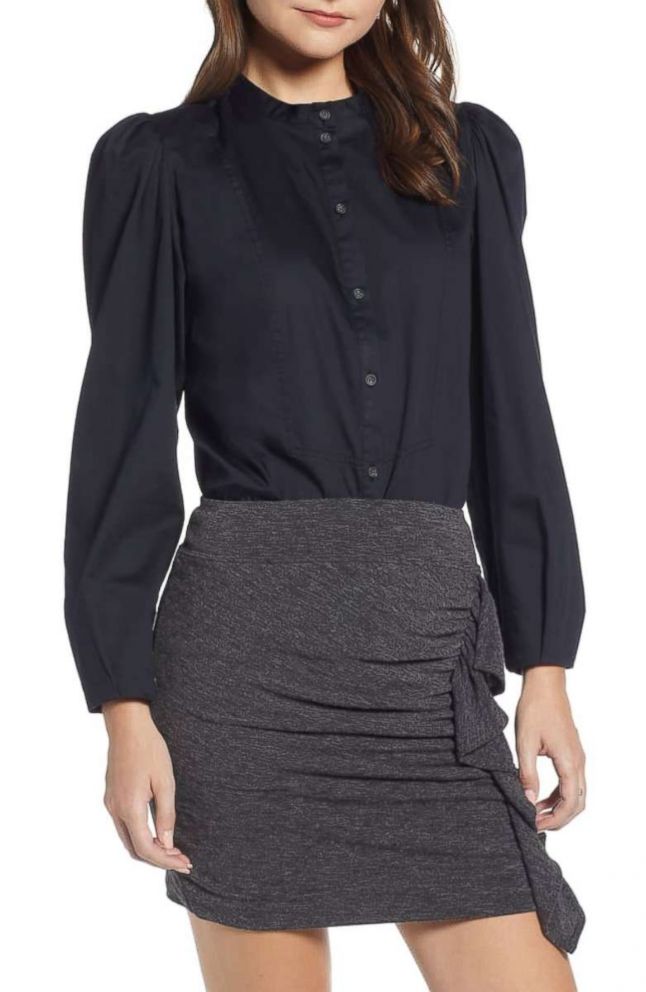 Sleeve Detail Minidress
Price: $89
nordstrom.com
The conservative neckline makes this dress appropriate for the office but Charnas noted that it would also be perfect for after-work drinks.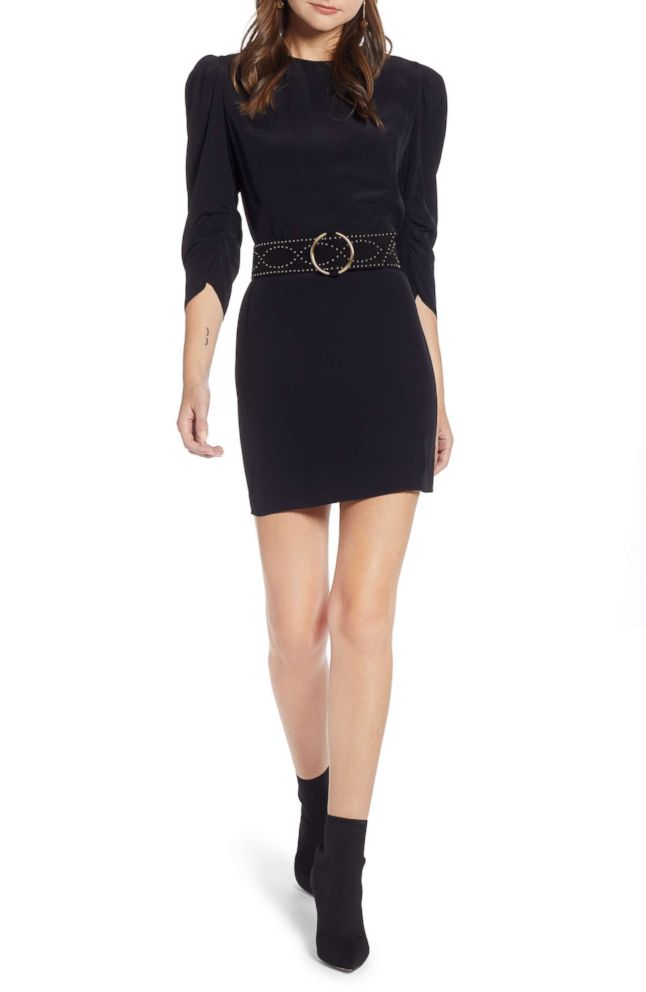 Blocked Cardigan
Price: $89
nordstrom.com
Something Navy's easy-to-wear cardigan beautifully pairs with other looks from the collection. Charnas said that she tried to keep colors consistent so that women can wear her clothes with their existing wardrobes, too.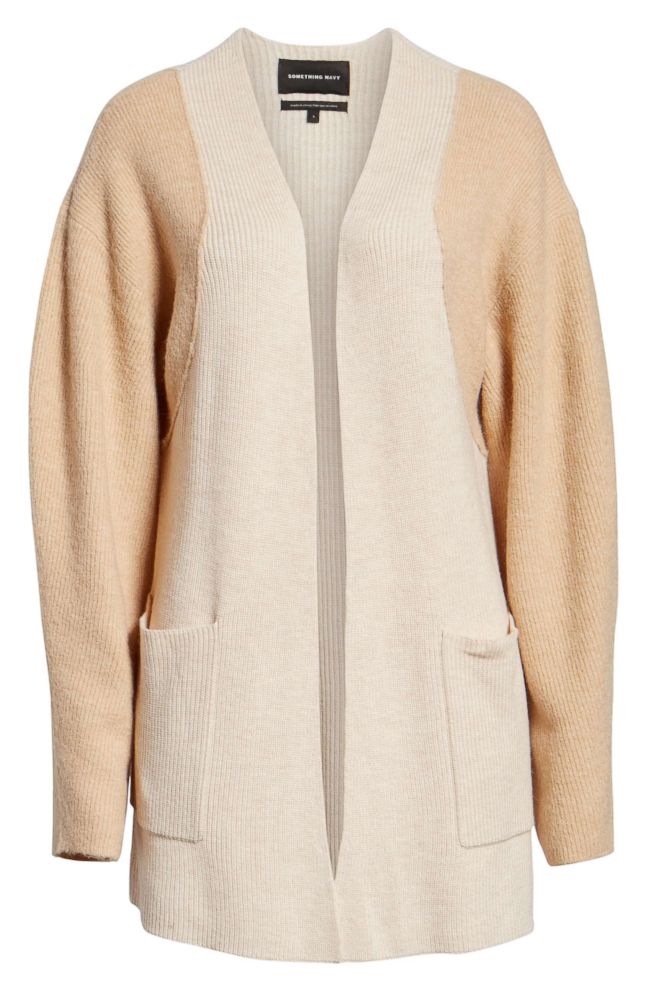 Black Vintage Denim
Price: $89
nordstrom.com
Charnas said that her readers are always on the lookout for a great pair of jeans, which made creating her own a given. "It's hard to find a very cool pair of jeans that are on trend but at a super affordable price," she explained. "We wanted to be sure to keep that trendiness, a soft material and a good wash."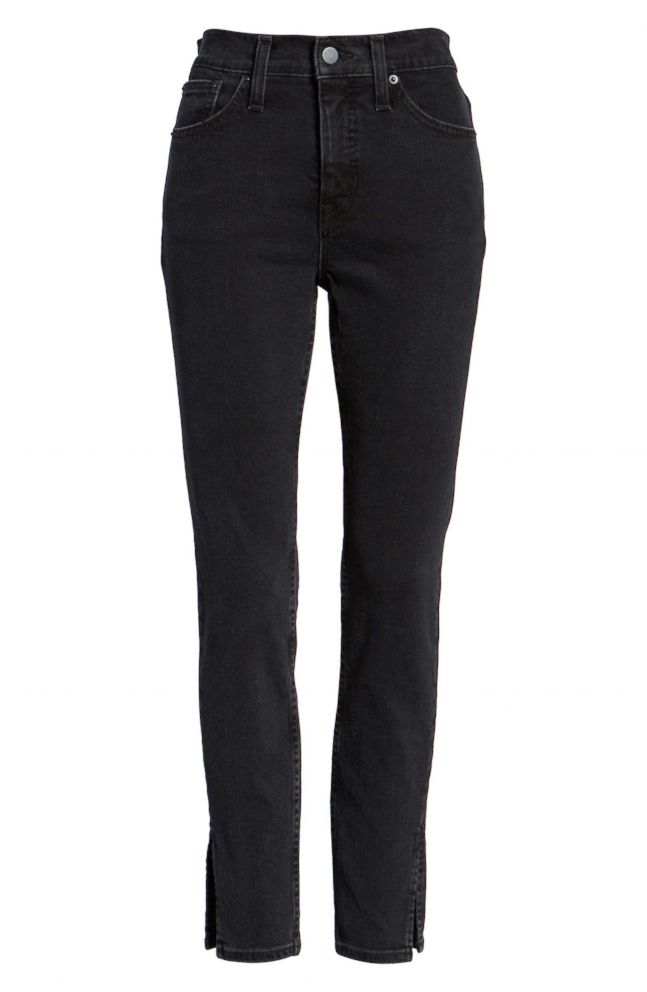 Full Sleeve Stripe Shirt
Price: $85
nordstrom.com
Charnas loves this striped pattern -- and her button downs in general: "They're classic but a little trendy!"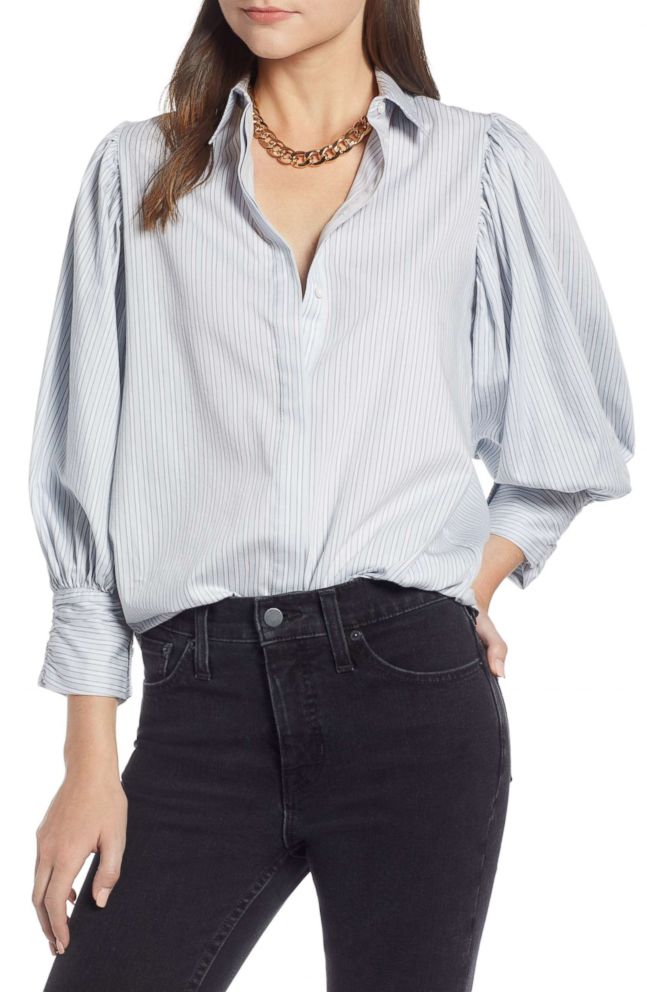 Square Neck Slim Knit Top
Price: $59
nordstrom.com
This top in black is bound to be popular, but Charnas is also a huge fan of the bright orange version. Choosing the colors with the team at Nordstrom was a joy, she added. "We want the clothes to look beautiful on the rack and in your closet," she explained.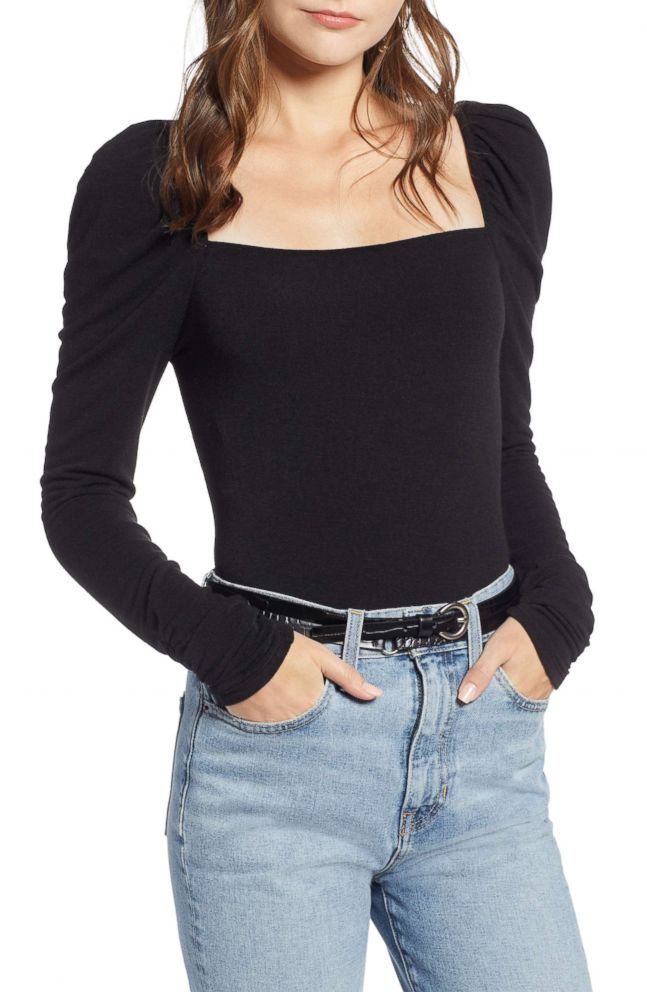 Tie Front Dress
Price: $89
nordstrom.com
Versatility is important to Charnas because she knows it matters to her readers, too. "A lot of the dresses can be worn during the day with flats but you can also wear them out at night with a heel and open it up a little or scrunch up the sleeves to make it a little sexier," she said.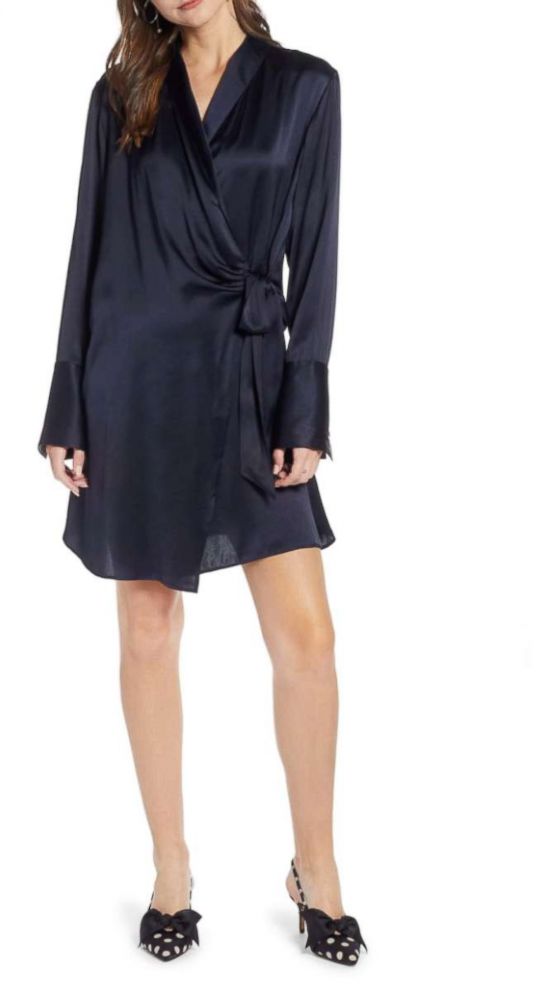 Pleated Flounce Miniskirt
Price: $79
nordstrom.com
"I wanted to find a way to include femininity into a skirt but not too much in a way that people who aren't super feminine would feel uncomfortable," Charnas said. "This looks really cute paired with a T-shirt but I also styled it with a lot of the blouses from my collection and long necklaces."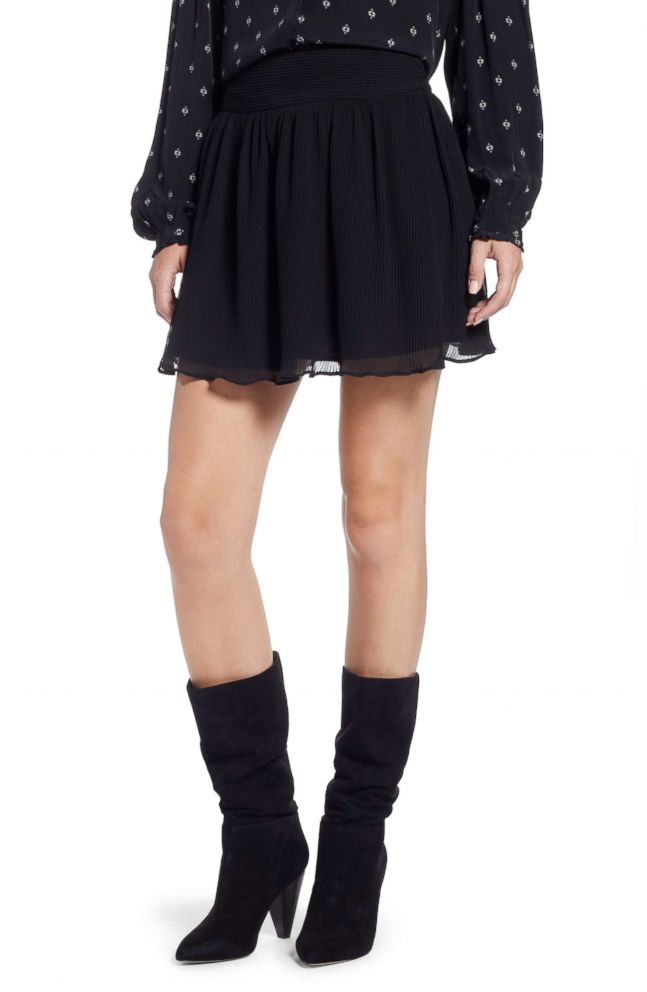 Teddy Faux Fur Coat
Price: $149
nordstrom.com
Charnas expects her coats to be very popular, especially because of the reaction her Instagram followers had to the blue version of the Teddy Faux Fur Coat she teased awhile back.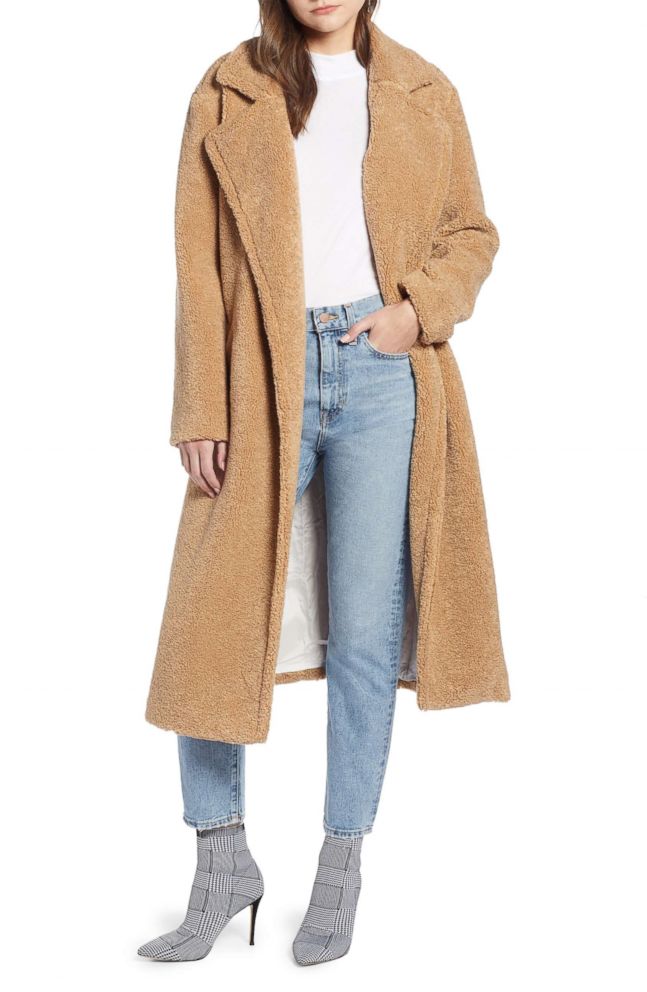 Hoop Earrings With Pearl
Price: $39
nordstrom.com
Available in silver and gold, Charnas said these earrings were her favorites in the collection. "They're simple but there's something special about them," she said.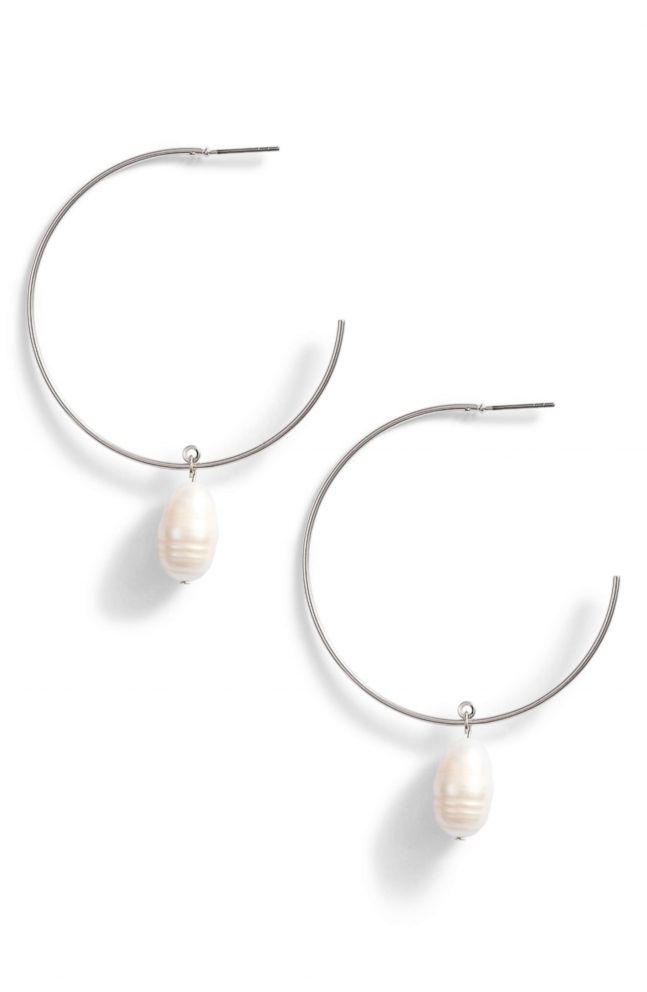 Scrunch Ankle Bootie
Price: $149.95
nordstrom.com
"The shoes are so great. We did a mix of heels, flats and boots," Charnas said, adding that these booties would look great with a minidress.