Teen pop queen Miley Cyrus and '80s rock icon Bret Michaels teamed up to take over New York's Central Park as part of "Good Morning America's" Summer Concert Series.
Cyrus wowed the crowd with the title track of her new album "Can't Be Tamed" and was then joined on stage by Michaels for "Every Rose Has Its Thorn."
"My first concert was [Michaels' former band] Poison," Cyrus said. "['Every Rose Has Its Thorn'] is my mom's favorite song. I did this song mostly for my mom."
Michaels called Cyrus' version "awesome" and said he was thrilled to perform it with her, even though he joked that "it was six octaves higher than I normally sing it."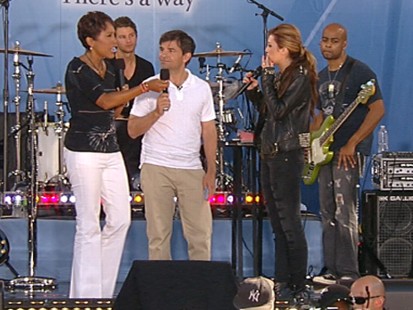 Tune in to "GMA" on Sunday, June 27 to see Miley Cyrus perform "Robot."
The performance comes just days before the June 22 debut of Cyrus' latest album and is something of a comeback for Michaels, who only recently resumed touring following a brain hemorrhage in March that nearly killed the rocker.
"My way of healing is making music, is going back on the road," Michaels told Billboard this week.
Included in that music is a duet with Cyrus called "Nothing to Lose," which will appear on his upcoming solo album, "Custom Built."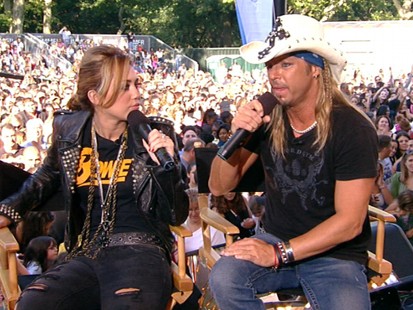 But if playing music again is a second life for Michaels, this year also marks a rebirth of sorts for Cyrus.
This isn't the same Miley we met in 2006, when millions welcomed the teenager into their households with the Disney Channel hit "Hannah Montana." She has shed her perky, wholesome image in favor of a new, more mature look.
"There's something about this kind of pop rock sound that's so much fun to perform live," Cyrus said on "GMA."
The crowd at Central Park included many fans who showed up early in the morning for the live concert, and they were also treated to a performance of Miley Cyrus' hit song "Party in the U.S.A."
Michaels is returning to touring in advance of the release of his new album on July 6.
"I've been on tour for awhile now after I came out of the hospital," he said.
Cyrus will perform Monday at the House of Blues in Los Angeles.
CLICK HERE to see the full "GMA" Summer Concert lineup, full of music superstars.
A Brand New Miley Cyrus 'Can't Be Tamed'
Cyrus' newest album, "Can't Be Tamed," is set to drop on June 22 and features a different sound than fans may be used to.
"This record is the first album where it's completely me," she said on "GMA." "It's completely what I want to say."
"I kind of write whatever comes to me naturally," she said. "Usually I'm just writing about stuff going on in my life. I figure people could relate to that."
The music, she has said, is inspired by the music group The Killers. To create it, Cyrus teamed up with Grammy Award-winning producer John Shanks, along with her longtime studio collaborators Tim James and Antonina Armato.
They co-wrote and produced album's first single and title track, "Can't Be Tamed," which Cyrus described as "self-empowering."
The song addresses Cyrus' own ambitions and cautions anyone who might stand in her way: "And if you try to hold me back I might explode, Baby by now you should know."
The 2010 Summer Concert Series returns for the second straight year to the Rumsey Playfield in Central Park, where music's biggest names will perform live every Friday.
Viewers interested in joining "GMA" in Central Park are encouraged to arrive at Rumsey Playfield via the 72nd street entrance on Fifth Avenue at 6 a.m. when the park opens to the public.