Joe McKee loved riding Harley-Davidsons, saltwater fishing, and living life to the fullest. But in July 2008, his life changed forever. He was tearing down a concrete storage building in his backyard when one side of the wall fell on him, slamming him into the ground.
"I realized I couldn't move my legs," he said. "At that point I realized I couldn't, no matter what, I couldn't feel anything."
McKee, an aircraft mechanic and Marine veteran from Dayton Beach, Fla., was airlifted to the hospital, where doctors said he had suffered a severe spinal-cord injury. After several lengthy surgeries, McKee and his wife Sandi were given brutal news.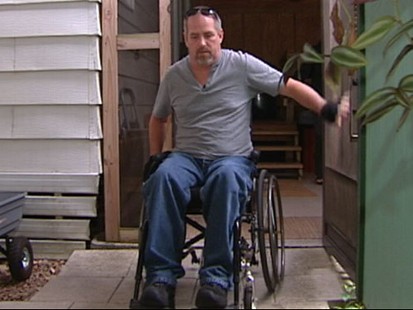 "They came and told me that he would never walk again," Sandi McKee said.
Like approximately one in three Americans, McKee, 53, had an accidental death and dismemberment insurance policy. This type of insurance guarantees a lump-sum payment to you or your family in the event of a devastating accident or death. But critics say many of these insurance policies contain such vague and ambiguous terms that the insurer can try to avoid paying your claim when you need it most.
According to the policy, Cigna promised to pay McKee over half a million dollars if he submitted proof that that he met the policy's definition of paralysis, which is defined as total loss of use of his lower limbs.
The couple expected that because doctors told McKee he was bound to a wheelchair, Cigna would pay his claim and he would be able to renovate his home to accommodate his new life in a wheelchair.
But despite the medical evidence he submitted, Cigna Group Insurance denied McKee's claim and sent him a letter saying he could "ambulate and perform all ...activities of daily living." (CLICK HERE to read the denial from Cigna.)
"I cannot walk," McKee said. "How can I perform all the activities that I used to do before I was injured?"
McKee's lawyer, Tom Caldwell, says Cigna's statement was outrageous.
"He can obviously still brush his teeth, okay," Caldwell said. "But they -- the, the activities of daily living, most of them include the ability to ambulate, the ability to walk. He can't do that."
Dr. Carolyn Geis, a rehabilitation medicine specialist, disagreed with Cigna. She said that although McKee does have some movement in one leg and can use his upper body strength to drag his legs with a walker, he moves so slowly this way that it's just not useful.
"Mr. McKee has some movement, but he still meets the criteria of the insurance policy that he doesn't have use of his legs for any of the activities that he would normally do on a daily basis," Geis said.
So how could Cigna get away with refusing to pay McKee's paralysis claim for almost two years, even though his doctors said he is confined to a wheelchair for the rest of his life?
Critics say it is because insurance policies often contain vague terms -- terms like "loss of use," which was at issue in McKee's case -- which insurers try and interpret to their advantage.
Cigna declined an interview request from ABC News.
Because McKee's policy is governed by California law, "GMA" went to the California Department of Insurance for answers.
"We've taken action against this particular insurance company as recently as a year ago for these kinds of claims, for these kinds of practices," Tony Cignarale, deputy insurance commissioner for consumer services, said. "We've entered into a corrective action plan with this company in the hopes that they turn themselves around."
When asked how significant the corrective action plan could be given McKee's case, Cignarale said "that's an issue we're going to look at" and added that his office will evaluate what else it may need to do.
McKee and his lawyers' appeals were exhausted and they were just getting ready to go to court when "GMA" began investigating their story.
During the ABC News investigation, Cigna agreed to send McKee to an independent medical doctor to get his opinion on his ability to use his legs. That doctor agreed with the previous doctors that McKee was bound to a wheelchair.
"I'm in this wheelchair the rest of my life," McKee said. "I would love to walk. But that's never going to happen. I'm in this wheelchair the rest of my life. And since I am, yes, I want the money. I want them to pay me what I made a contract with them."
This week Cigna agreed to pay McKee's claim, and sent him a check for $549,750 (CLICK HERE to read Cigna's statement to ABC News about the claim). McKee will also receive benefits for home and vehicle alteration, as well as rehabilitation benefits.
"You saved our lives," Sandi McKee said after receiving news that her husband's claim was paid. "Now we can build a new life."
The McKees plan to use the money to renovate their home, but they say they will never forgive Cigna for what the company put them through.
"We trusted them, and they broke our trust," said Sandi McKee.
Click here to return to the "Good Morning America" Web site.