Widespread Panic is the quintessential music festival band. The six-member group plays about 250 live shows a year, they never play the same set list twice, and, they never play the same song within a four-day span.
The band always books two nights in a row in any city because their fans often travel far distances to see the shows. For band members John Bell, John "JoJo" Hermann, Jimmy Herring, Todd Nance, Domingo "Sonny" Ortiz and Dave Schools, musical festivals are a great way for them to connect with their fans.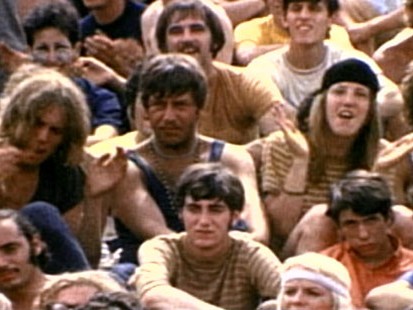 ABC News caught up with Widespread Panic when they performed at the Mile High Music Festival in Denver in late July. The concert was the second in a series of festivals the band played this summer.
Lead singer and guitarist Bell is comfortable playing the music festival circuit, and he thinks it's a great way to bring a lot of bands together in one place.
"Folks can't spend their whole summer going to concerts, running around chasing bands," Bell said. "If you can bring a large number of bands into a good environment then fans can have their concert experience and not spend the baby's milk money."
At the Mile High Music Festival, Widespread Panic played three straight hours of music for the fans who came from around the country to see them. Some were seeing the band for the first time, and some for the 40th. Their fans collect their concert experiences like some people collect baseball cards.
The day after the concert, Bell said he and lead guitarist Herring looked at each other in disbelief at the length of the show.
"For the most part when you get into something musical like that time loses its value," he said. "Sometimes the day after a show we will put together the next set list and not remember you played the song the night before. You get lost in that moment."
The hallmark of the music festival is the vast territory the music covers. The list of musicians playing alongside Widespread Panic in Denver included Tool, The Fray, Ben Harper, The Black Keys, Ani DiFranco and Buddy Guy. The Beastie Boys played to the same audience as Merle Haggard and Bruce Springsteen at Bonnaroo this summer. Some festivals support hundreds of different acts.
Today's Fans Chase the Woodstock Experience
This weekend marks the 40th anniversary of Woodstock. The free-love and anti-war movement concert of the summer of 1969 stands the test of time with its iconic performances. With inflation adjustments, the cost of a ticket to Woodstock today would be about $25 to see 32 bands.
Today, fans chase the same rush of seeing their heroes on stage. Festivals also give folks a chance to discover new acts and new tastes. As far as music festivals go, Woodstock wasn't exactly profitable. Promoters lost money on the festival portion of the event but more than made up for their losses with the album and documentary.
Today, the opposite is true. The Internet has put record labels in a quandary as to how to make money. The value for true music fans is in the live performance.
Singer-songwriter Ani DiFranco played at the Mile High Music Festival; it was the last of her string of summer festival performances. Her favorite aspect of music festivals is being around other musicians.
"Those boxes you find in record stores -- black, white, old, young, girl, boy -- the 'dividing up' is blown apart at music festivals," she said. "No matter what the title of the festival -- whether it's a folk festival, jazz festival, blues festival or rock -- you never know what you are going to find, and that's so much fun as an artist. You get to experience other people's shows and juxtapose different muses. It's refreshing."
Blues guitar legend and Rock 'n' Roll Hall of Famer Buddy Guy says he likes the festival ambiance.
"Whenever I come to something that is this big, my thing is that somebody is going to hit a lick that I want to steal," he sayd. "I don't read music, and I taught myself to play. So I want to learn something from somebody else."
Among New Jersey's All Points West, Tenneesee's Bonnaroo and Colorado's Mile High Music Festival, 250 bands were featured over three weekends. Hundreds more can be seen at California's Coachella, Illinois' Lollapalooza, Michigan's Rothbury and Louisiana's Jazz Fest.
For $90 a day at Coachella, a fan can see 160 bands. A good time is free but, unlike Woodstock, today there are some rules. People are encouraged to separate their trash when they throw it away and be an overall responsible citizen of the planet.
Social Consciousness of Modern Festivals
There's also a philanthropic component to the modern festival. A group called Conscious Alliance asks ticket holders to donate 10 cans of food, preferably low-sodium and organic. The food is given to the festival home city's food bank. In return, the ticket holder is given an official festival poster. Fans can also score posters with a $10 donation that goes toward supporting food pantries on Native American reservations and emergency food relief during natural disasters.
Justin Baker, the founder of Conscious Alliance, said it isn't work to get the good work get done.
"We are just making it really easy for people to do a good thing," he said. "We get a great response from people. Everyone from teenagers to older people like to give."
Beyond the social consciousness of the modern festival lies the organization process.
Paul Tollett is president of Goldenvoice, which organizes and promotes 300 concerts a year. He is the mastermind behind Coachella and has organized shows in every corner of the country.
When asked about the anniversary of Woodstock, Tollett chooses to think about the present. "Life has changed. We have to put on a show that's for now," he said. "That specific show had a lot of ideals that were great and may never be improved upon. But you can't repeat it. You have to learn from all the festivals over the years."
For the fans, though, it comes down to enjoying the experience. The ticket might be a gateway to a front-row seat at your favorite band's show or a few minutes with someone you've never heard before.
Widespread Panic's Bell understands that and sees the musicians and the fans as one.
"If you get into a music thing that is reflecting what you are experiencing," he said, "well, that is why I guess there is still a farm out there creating people who like to come out and see rock 'n' roll."