We begin with another criminal mastermind. A note to the Twinsburg, Ohio police department: when apprehending a bank robbery suspect, do not put the ransom note somewhere where the suspect can eat it. That's exactly what John Ford did. He enjoyed a nice little snack off the hood of the cruiser.
The strangest animal video of the month comes from a gentleman in Fort Worth, Texas who stacks a mouse on a cat on a dog to promote the idea of peace. "If they can get along," he reasons, "why can't people?"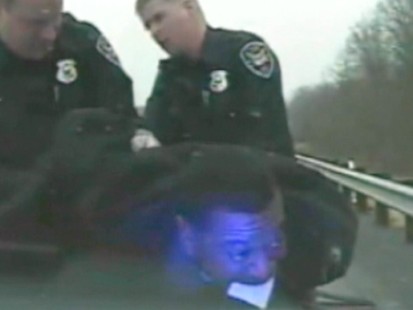 In sports, you all know what's playing out in the state of Wisconsin. Longtime Green Packer Brett Favre is breaking heartland hearts by having an epic season with the bitter rivals, the Minnesota Vikings. Now, Iraqi detainees at Camp Cropper in Baghdad are using Brett Favre to heckle a Wisconsin unit of the National Guard. I believe that qualifies as giving aid and comfort to the enemy.
Congrats to the Hannas of Abingdon, Md. who tied the knot recently. And in modern fashion, after the "I do's" and before the kiss, Dana Hanna whipped out his BlackBerry so he could update his relationship status on Facebook. And then he forced his bride to do the same.
And finally, Star Wars fans will recall the great scene in "The Empire Strikes Back" in which Han Solo saves a freezing Luke Skywalker by cutting open a tauntaun and shoving him into the warm intestines. Now, you too can snuggle in simulated alien guts, thanks to the Tauntaun sleeping bag. It's a great gift for the holidays.
And that, my friends, is the News You Missed…until next time!