Brother and sister ice dancers Chris and Cathy Reed were born in Kalamazoo, Mich., and ever since they started skating as children, they've had dreams of Olympic gold. Now, they're competing in the Vancouver Winter Games, but not for the United States.
Instead of representing America's red, white and blue, the duo is skating for the red and white of Japan.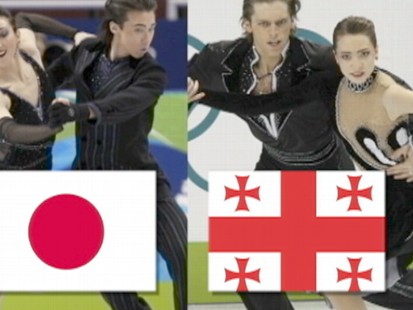 Their mother is Japanese, and their father is American. They used their dual citizenship to compete for their mother's homeland.
"We are Japanese. We compete for Japan. We're here for Japan," Cathy said.
Do they want to beat the Americans? "Of course!" she said, with a laughs.
The Reed siblings are not the first athletes to compete for a country where they weren't born. WNBA player Becky Hammon competed for the Russian basketball team at the 2008 summer games in Beijing, China, after being snubbed by the U.S. squad. She signed to play professionally in Moscow.
At this year's games, Vancouver-born moguls skier Dale Begg-Smith switched allegiance to ski for Australia, drawing criticism from Canadians who called him a traitor.
"If you want to get there, and you want to have this experience, I certainly don't begrudge them," said Christine Brennan, a USA Today sports columnist, about athletes who opt to represent other countries so they can get to the Olympics.
Skater Gets Citizenship in Partner's Country
Athletes switch countries for many reasons such as easier qualification, funding or even to complete a pair. It's fine as long as the host country makes the athlete a naturalized citizen and offers him or her a passport.
That's what happened to Chris and Cathy Reed's little sister Allison, who's just 15. She doesn't skate for the U.S. or Japan. She's competing on behalf of the nation of Georgia.
Allison and current ice dancing partner Otar Japaridze connected after both were left without partners. Japaridze, who's from Georgia, had been training at the same rink as Allison in New Jersey. They paired up in May 2009, and Allison received her Georgian passport from the country's president just weeks before the start of the winter games.
Three siblings, two different countries and some Olympic-level sibling rivalry.
Chris and Cathy are currently leading Allison and Japaridze in the ice dancing standings, but if little sister has her way, that won't be for long.
"I did wish them luck!" Allison laughed.