The jagged peaks of the Teton Range are some of the most recognizable mountains in the world. Just 40 miles long and approximately 8 miles wide, the Tetons are the defining feature of Grand Teton National Park.
"The Tetons are so iconic and so dramatic because you have this flat plane, the valley of Jackson hole, and you have this abrupt vertical rise of these granite peaks," said Jackie Skaggs, Public Affairs Officer, for Grand Teton National Park.
The Tetons boast eight peaks over 12,000 feet. The highest of the peaks, Grand Teton, rises to height of 13,770 feet. The peak was given the name Grand Teton, or "large breast" in French, by Iroquois or French-Canadians settlers.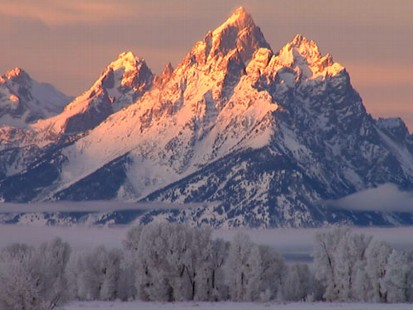 Located in northwest Wyoming, just north of the town of
Jackson, Wyo.
, Grand Teton National Park is 485 square miles of rugged western landscape featuring a vast array of indigenous plants and wildlife. The mountains receive over 400 inches of snow annually, and nearly 200 inches in the valley, transforming the lush summer landscape into a winter wonderland.
"Few places have the solitude and the serenity that Grand Teton National Park has during the winter," said Skaggs.
Temperatures often dip below zero during the winter months in Grand Teton National Park with the record low reaching 66 degrees below zero. The lakes at the base of the mountains are usually frozen over in the winter, creating a pristine vista of ice and snow.
"Seeing the mountains with the lakes in front is very exhilarating," said Mike Nicklas, a park ranger. "I love winter in Grand Teton National Park because you get a real feeling for wilderness."
Despite the brutal cold, wildlife is still easy to spot in the park during winter. Herds of bison, elk, moose, and big horn sheep can often be spotted right next to the road.
"The wildlife that exist here year round really have to be prepared for winter," said Skaggs. "Big animals, like bison are prepared for this harsh climate because they are naturally insulated from the cold."
Jackson Hole, Wyoming: Winter Sports Playground
The landscape also provides opportunity for winter actitivies like mountaineering, backcountry skiing, cross country skiing, snowshoeing, and ice fishing.
For a more controled winter sports experience, the nearby town of Jackson, Wyo., is one of the most popular skiing destinations in the Western U.S.
Just on the outskirts of the park, Jackson Hole Mountain Resort, in the Bridger-Teton National forest, has 2,500 acres of in-bounds ski terrain and over 3,000 of backcountry terrain.
In 2008, a new aerial tram was completed to ferry skiers the more than 4,000 vertical feet to the summit of Rendezvous Mountain.