Every year, prospective car buyers look to Consumer Reports magazine for its reviews of new vehicles.
The magazine makes its selections of best cars in various categories based on the models' performance, reliability and safety.
This year, the best overall car was the Lexus LS 460L. Due to reports of faulty acceleration, two of last year's picks -- the Toyota Highlander and RAV4 SUV -- were not considered.
The magazine tested more than 280 vehicles, and revealed its top picks today on "Good Morning America." Here are its selections: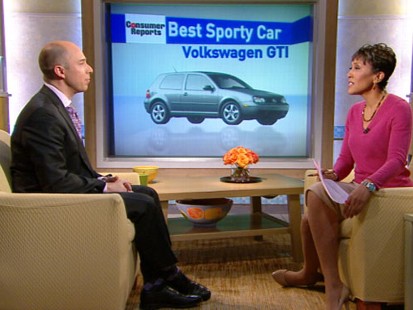 Consumer Reports' Best of 2010
Category: Small sedan
Top pick: Hyundai Elantra SE ($18,695)
Why: This is the Elantra SE's third time on the list. The magazine says the vehicle is a "solid, all-around car" that's relatively comfortable, quiet, and roomy. The Elantra SE was found to provide good fuel economy and plenty of features for the money. The SE comes with standard electronic stability control (ESC), a critical safety feature that's absent on other small cars, including the lower-end Elantras.
Category: Family sedan
Top pick: Nissan Altima ($23,970 to $30,335).
Why: This car has been a top-rated family sedan for a couple of years, but lacked ESC. The 2010 model comes with ESC standard and improved gas mileage. The Altima offers comfort and performance, the magazine said, adding that the car got some of the best fuel economy in its class: 26 miles per gallon (mpg) overall in four-cylinder models and 24 mpg with a V6.
Category: Sporty car
Top Pick: Volkswagen GTI ($27,504)
Why: Updated for 2010, this car is the sport version of the Volkswagen Golf, which itself was formerly called the Rabbit. The magazine says the GTI is "exhilarating to drive," noting that it handled well, accelerated readily and had responsive steering. The GTI also was found to be practical and to have a well-finished interior and good fuel economy (27 mpg).
Category: Small SUV
Top Pick: Subaru Forester ($20,972 to $28,860)
Why: Consumer Reports said the Forester provided "one of the most carlike driving experiences" of any SUV, adding that the vehicle combines handling with comfort. Passengers in this vehicle have a spacious cabin, with a roomy rear seat and excellent visibility. The 2.5X provides an "impressive" 22 mpg overall with an automatic, 24 mpg with a manual, the magazine noted.
Best Car Overall, Best Family SUV, and Other Picks
Category: Best car overall
Top Pick: Lexus LS 460L ($76,572)
Why: The LS scored an outstanding 99 out of 100 on Consumer Reports road test, making it the highest-rated vehicle. The car had a comfortable ride and "luxurious driving environment" that included a roomy and quiet interior. Controls were easy to use, fuel economy was good and the vehicle provided a "plethora" of amenities, including the optional self-parking system, the magazine said.
Category: Family SUV
Top Pick: Chevrolet Traverse ($39,920)
Why: The Traverse stood out because its quiet cabin can comfortably seat up to eight adults with room left over for cargo, and it provides a pleasant ride, responsive handling and "respectable" fuel economy for its size.
Click HERE to go to Consumer Reports magazine.
Category: Sport sedan
Top Pick: Infiniti G37 ($37,225)
Why: This sedan tops this category for the fourth straight year, and with a score of 95 out of 100, it's one of the highest-rated sedans tested, the magazine said. The G37 provides agile handling, "blistering acceleration, a refined power train" and a fairly comfortable ride, plus a luxurious interior, Consumer Reports added.
Best Green Car, Family Hauler, Pickup Truck
Category: Family hauler
Top Pick: Mazda5 ($23,805)
Why: This vehicle combines the convenience of a minivan with the maneuverability and "stingy fuel economy -- 24 mpg overall -- of a wagon," the magazine found. Fun to drive, the Mazda5 is practical and comfortable.
Category: Green car
Top Pick: Toyota Prius ($26,950)
Why: The Prius was redesigned for 2010. It leads the category for the seventh straight year. The Prius is still the most fuel-efficient car in the magazine's ratings, getting 44 mpg overall. Consumer Reports said this car is pleasant car to drive, with a roomy interior, a steady ride, hatchback versatility, and excellent reliability and crash-test results.
Category: Pickup truck
Top Pick: Chevrolet Silverado 1500 ($37,235)
Why: The Silverado 1500 returns to the top of the list after a year off. The crew-cab 4 wheel drive model is a "well-rounded pickup" with a roomy cabin, generous payload capacity and decent ride quality, the magazine said.
Click here to return to the "Good Morning America" Web site.