Mohamed and Ahmed Ibrahim were born in Egypt in 2001 under unusual, life-threatening circumstances: they were joined at the top of the head.
For more than a year the boys lived with the one-in-two-million condition until 2003 when the World Craniofacial Foundation sent the twins to Dallas for a daring surgery to separate them. Their parents were warned that both twins survive in only 10 percent of surgeries.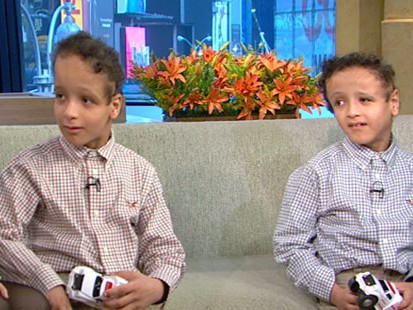 Dr. Kenneth Salyer of the World Craniofacial Foundation, along with more than 50 physicians, anesthesiologists and nurses, spent 34 hours performing the daring operation.
Click here for more information from the World Craniofacial Foundation.
Mohamed and Ahmed happily played with toy trucks on "Good Morning America" today while Salyer reported on their progress.
"I think they're doing quite well," Salyer said. "We have some loss of the bone that we reconstructed, but overall, they're doing quite well."
But Salyer said the boys treatment is not over.
"Within the next few years we would add some to it. It should give them some nicely shaped skulls and heads," he said.
The boys condition led to developmental delays and they are entering the first grade at eight years old. However, Salyer said that Mohamed was right on target developmentally, while Ahmed is lagging a bit behind.
The boys are now in separate special classes in school in Cairo, something Salyer hopes will help catch Ahmed up. The World Craniofacial Foundation is footing the bill for the boys' specialty education.
Boy Burned in SUV Fire to Get New Ears
In addition to delivering the good news about Mohamed and Ahmed, Salyer made a major announcement for five-year-old D.J. Harper who lost his ears when he was rescued from a burning SUV in July.
For his birthday, D.J. asked for new ears -- a wish Dr. Salyer said the Texas Hospital for Advanced Medicine can grant.
"This is amazing," D.J.'s father, Chris Harper, said. "We're truly blessed."
Though it could be nearly three years before D.J. gets the reconstructive surgery on his ears, as with the hundreds treated at the Texas Hospital for Advanced Medicine, hope is on the horizon.