Ed Smart said today that he was "incredibly proud" of his daughter Elizabeth Smart after she took the stand Thursday to testify against her alleged abductor, and that he had "no idea of the scope" of the abuse she underwent at the hands of Brian David Mitchell.
"I couldn't believe that anyone would be such an animal," Ed Smart told Diane Sawyer today on "Good Morning America." "I couldn't believe anyone could be so abusive, so self-absorbed and so selfish."
Elizabeth Smart appeared composed and calm on the stand Thursday as she recounted nine months of horror. She testified that she was raped "on a daily basis up to three or four times" by Mitchell, the homeless preacher who allegedly kidnapped Smart when she was 14 and held her captive for nine months.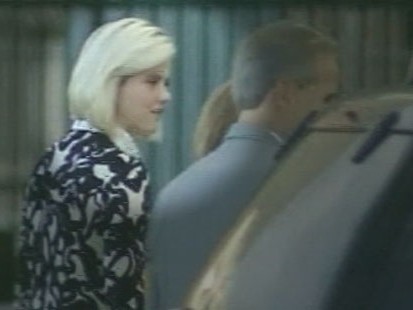 Smart and wife Lois accompanied their daughter to court, and he visibly winced as his daughter described how she was treated during her captivity.
Elizabeth Smart testified in the U.S. District Court in Salt Lake City as part of proceedings to determine Mitchell's mental competency. Mitchell has been repeatedly declared mentally incompetent to stand trial for charges that include kidnapping, sexual assault, burglary and conspiracy to commit kidnapping.
When asked whether Mitchell was competent, Ed Smart said, "I am sure."
Elizabeth Smart was never face to face in court with Mitchell, who was removed from the courtroom with his hands and feet shackled after he refused the judge's orders to stop singing a church hymn.
Smart said his daughter had wanted the chance to see Mitchell in court.
"She wanted to actually see him muzzled there and have to face her and know that this is what you are and this is what you did," he said.
Smart believes Mitchell is attempting to "manipulate the system," calling his behavior "a charade."
Impromptu "Wedding"
Elizabeth Smart, now 21, testified that on the first night she was taken from her home in 2002 she was guided on a 3-mile hike to a canyon behind her home where Mitchell performed an impromptu wedding ceremony.
"He performed a ceremony to marry me to him, and after that he proceeded to rape me," said Elizabeth Smart, clad in a white blouse and black pants.
She never became emotional during her two hours of testimony and remained poised, clenching her fists as she spoke.
"This is the first time that Elizabeth has come forward, and I was incredibly proud of her," Ed Smart said. She was able "to tell the horror of what she went through … share with the judge what kind of a person he was."
Elizabeth Smart Testified in Brian David Mitchell Case
Elizabeth Smart testified that Mitchell kept her from escaping by attaching chains around her ankles and tying them to nearby trees. He would wear the key to unlock the chains around his neck, she said.
When Mitchell's wife, Wanda Barzee, became jealous of his relationship with Smart, Mitchell organized a system in which he would rotate between the two women, she testified.
"Wanda would get very upset with him," Smart said on the stand. "She'd say, 'All you do is lust after her.'"
"There wasn't an actual 24-hour period he wasn't able to rape me," she said.
There was at least one time when Smart was able to rebuff Mitchell. During a hike to get water from a stream, Smart said that Mitchell tried to convince her to have sex with him despite it being Wanda's turn.
"He said how much he needed me to have sex with him right then and there, and that Wanda would never know, she would understand and she would be OK, and it would be OK," said Smart, who testified that she had refused him sex.
Asked by U.S. attorney for Utah Brett Tolman how it felt to say "no" to Mitchell, she responded, 'wonderful."
Smart also said that Mitchell had attempted to break into the home of another family who he knew had a young daughter, but he stopped after entering the home and hearing a man snoring.
According to Smart, there was a week-long period when she was away from Mitchell after he got arrested for breaking into a church in San Diego. She did not explain, and she wasn't asked why she did not flee during that period.
At another point, Mitchell and Smart came into contact with police at a Salt Lake City library. Smart testified that Mitchell had told the officers that she was wearing a face-covering burka for religious reasons and could not remove it when they asked her to do so.
Throughout her captivity, Smart said she was consistently given alcohol and drugs by Mitchell and was shown pornography.
Asked by Tolman to describe Mitchell in a few words, Smart responded, "evil, wicked, manipulative, sneaky, selfish, greedy, not spiritual, not religious and not close to God."
Elizabeth Smart Recalls Night of Kidnapping
Smart was 14 when she was taken from her home at knife point. In court, Smart recalled the details of the night she was taken from her bedroom.
"A man broke into my house and held me at knife point and kidnapped me," said Smart.
According to Smart, Mitchell whispered to her to stay quiet and said that if she disobeyed he would kill her and her family.
Once they left her house, Smart said Mitchell became worried the police would spot them and forced her to duck underneath a bush when a police car drove past.
In the months following Smart's disappearance, her parents made multiple television appearances, pleading for their daughter's return. Hundreds of people scoured the region hunting for her.
Smart was found nine months later, in March 2003, with Barzee and Mitchell, a self-proclaimed prophet who called himself "Emmanuel" and once had done work at the Smart's home.
Both Barzee and Mitchell have been repeatedly declared mentally incompetent to stand trial for the kidnapping, sexual assault, burglary and conspiracy to commit kidnapping charges.
According to U.S. District Judge Dale Kimball, who determined Smart should be allowed to testify, Smart's inclusion in this latest review was necessary because Mitchell has refused to submit to any psychological evaluations or diagnostic tests, The Salt Lake Tribune reported.
For Smart's father, there is no question about Mitchell's competency.
"He is the ultimate manipulator," Ed Smart told "Good Morning America" previously. "He's manipulated the system to the nth degree. He is competent. He is a pedophile and he needs to be brought to trial.
"He hasn't been held accountable yet, and I'm hopeful that this will really bring him to accountability," he said.
Elizabeth Smart Moving On but Still Remembers
Last year, Elizabeth Smart told "GMA" that her life was "great," but that she still feared her alleged kidnappers.
"I think that if they were to be released, I think they would come back and they would try to come back after me," she said. "And I don't think ... that any child or any human should ever be in danger of having that happen again."
At that time, Smart expressed hesitation about testifying against the pair.
"I don't think I really want to, but I don't want them getting back out," she said. "I don't want them ever out because I really, really believe that they wouldn't stop."
After her difficult day in court, Elizabeth Smart is moving on. She will leave for an overseas church mission trip while the judge decides whether her accused captor is mentally fit to stand trial.
Elizabeth Smart "has been completely amazing," her father said today. "Life is moving forward, she is truly not going to allow him to affect her life."
For more information, visit:
Radkids.org
Spcoalition.org
Notonemorechild.org
ABC NEWS' Lee Ferran and Katie Escherich contributed to this report.