Gen. Colin Powell has led battles around the world, but now he's taking on a desperate fight on the homefront: what he calls the "moral catastrophe" of dropout rates for U.S. high school students.
Every year, approximately 1.3 million students drop out of high school , according to America's Promise Alliance, an advocacy group. That's about 7,200 for every school day.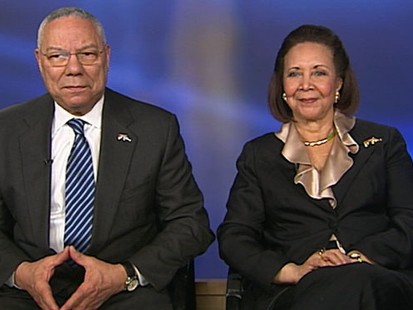 "We all pay for it," Powell told George Stephanopoulos in a "Good Morning America" exclusive interview. "It's not only a moral catastrophe, it's an economic problem. … It's a security problem."
Powell said that other countries have invested heavily in their youth, and that America can't afford to fall behind.
"So it is a moral and economic imperative for us to deal with this crisis," he said.
The comments came after Powell, alongside his wife Alma, stood with President Obama and Education Secretary Arne Duncan Monday to announce the formation of Grad Nation, a 10-year campaign to "reverse the dropout crisis and enable our children to be prepared for success in college, work and life," according to America's Promise Alliance's Web site.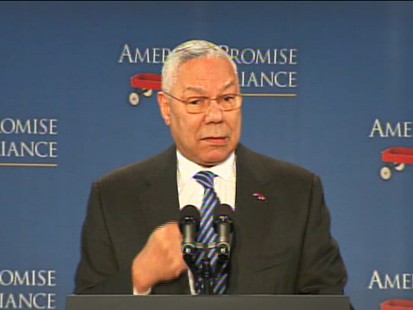 The campaign has stated two solid if ambitious goals: to ensure that that 90 percent of today's fourth-graders graduate from high school on time and to help America become the world leader in proportion of college graduates by 2020. Currently, around 70 percent of fourth-graders are expected to graduate on time.
"We know that the success of every American will be tied more closely than ever before to the level of education they achieve," Obama said at the announcement. "The jobs will go to the people with the knowledge and the skills to do them. It's that simple."
Obama has put the government's money where his mouth is. The president announced $900 million in government grants will be distributed to help transform underperforming schools.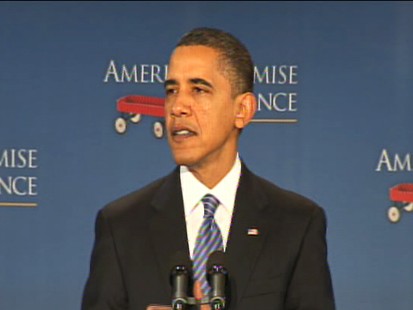 Alma Powell: 'Money Is Not the Only Thing That's Needed'
But according to the Powells, it will take a lot more than money.
"That's not the entire answer," Alma Powell said. "What we have to understand is money is not the only thing that's needed. It is the will of all of us and everybody in the community to take part in this effort to sustain and train our children and bring them along. It is a combined effort of the American people."
"Every one of us can find something to do," Colin Powell said. "Maybe it's just go to a school in your neighborhood that needs somebody to come read. But just don't look in your neighborhood. Look in a neighborhood where these underperforming schools are, where kids do not see successful adults. That's where you ought to go.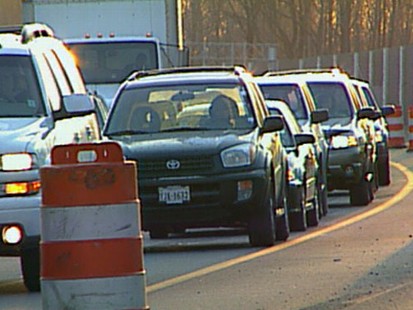 "So each of us needs to sort of get out of our comfort zone and our nice neighborhood, and get into neighborhoods where the schools are struggling."
The Grad Nation campaign plans to focus on the 12 percent of the nation's high schools that produce half of the nation's dropouts, according to their Web site.
"By focusing our community work on these 2,000 lowest-performing schools, their feeder schools and neighborhoods, we can have a tremendous impact," the Web site states.
Powell said that he was educated by the public school system in New York and "could have easily fallen by the wayside." But thanks to caring teachers and family, he became successful.
Powell said he shared his story with a school in Florida, and when he was done, a boy raised his hand.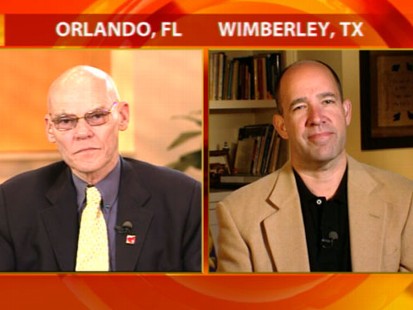 "'What if you don't have that kind of family, General?" the boy said, according to Powell. "'What if you don't have a mother and father like that? Can you still make it?'"
It's students like that, those who do not have as much of a support system, that the effort aims to help the most.
"The answer we have to give them in every way we can is 'Yes, we are there for you,'" Powell said. "'You are our children. You may not have been born of us, but you are our children and we have a responsibility for you.' Just don't sit back and say, 'Gee, what can I do?' Get up and go find something to do. It's not hard."
Click here to visit the America's Promise Web site to learn about opportunities to volunteer.