New Yorker Horia Cretan pulled a man and a small boy from a burning building Wednesday but he may have done something even braver today by surprising his girlfriend with a marriage proposal live on "Good Morning America."
Just after Cretan told the dramatic tale of his rush to save the two from a fire in a Bronx apartment building, he asked his girlfriend to marry him, promising, "there's never going to be a dull moment." His girlfriend, Desiree Guzman, said, "Yes."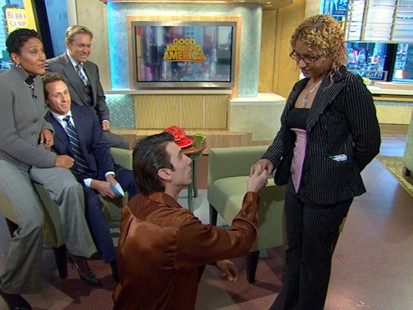 In keeping with his promise, Cretan's Wednesday was far from dull as he said he was working in a store when he heard desperate screams from a nearby building.
"I rushed outside ... to see waves of smoke coming out the window," he said.
That's when he ran for his ladder and rushed toward the screams. "You can't think at that time, you just have to do what's right," he said.
Although footage of Cretan pulling the unconscious boy from the window and down the fire escape was captured by a nearby camera on the ground, Cretan said that when he first got to the window, no one else was around.
"I saw a man sitting in the window screaming ... I believe he was in a state of shock," he said. "He couldn't make his way out. I forced him out."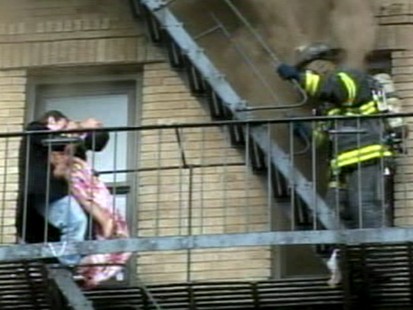 But just then, the man told Cretan there was someone else in the smoke-filled room, a small boy.
"That's when I broke the windows, to make sure that the smoke comes out ... I needed to see where the boy was," he said.
Moments later, firemen arrived as Cretan pulled the boy out the window and onto the fire escape. By then, the boy was unconscious, Cretan said. The boy was sent to the hospital and is expected to recover, Cretan added.
"He's a brave little kid," he said. "He's really strong to go through what he went through."