Golf tournament television ratings dropped by half last year while Tiger Woods was sidelined with a knee injury. So, now that the most famous professional golfer is taking a break, many people wonder to what extent his absence will damage the sport.
"Tiger Woods is bigger than golf. Golf has a section of fans that will pay attention anyway," Mike Greenberg of ESPN Radio's "Mike and Mike in the Morning" said. "But all of those peripheral fans, those casual fans that sports needs, I don't know if they are coming back."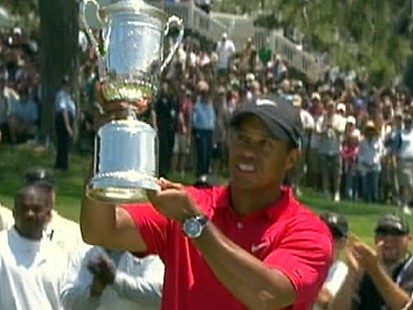 Woods has played in each of the most-watched golf tournaments in the past three years, according to Nielsen ratings, Greenberg said.
Matt Miller, senior editor of Forbes magazine, said, "The PGA tour is going to take it really on the chin. … They are basically going to lose a bunch of sponsorships, but more importantly, they are going to lose a lot of audience."
Woods has not only had an impact on the amount of money the sport makes but also on the other athletes' paychecks. PGA prize money increased from $70 million in 1996 to $278 million in 2009.
"Going back to the year that Tiger Woods first turned pro, which was 1996, in that year nine players earned $1 million on the PGA tour," Greenberg said. "Last year, 104 payers earned $1 million on the PGA Tour."
Woods himself has drawn quite a paycheck, earning more than $100 million a year from prize money, personal appearances and sponsorships.
But now those sponsors are wavering and a report in today's New York Times could mean more bad news for the golf superstar.
A Canadian doctor, Anthony Galea, who once treated Woods for a knee injury is now the subject of a doping investigation, the newspaper reported.
Galea, who admitted to taking human growth hormone, denied giving it to professional athletes, according to the New York Times.
The doctor had a reputation for helping athletes to recover quickly from injury and said he flew down to Florida at least four times in order to treat Woods with platelet therapy, a blood spinning technique, the Times reported.
The newspaper said Woods' agents at International Management Group (IMG) recommended the doctor to Woods because they were concerned about the speed of his recovery.
Mark Steinberg, and agent for Woods, flatly denied the Times' report.
In an e-mailed statement, Steinberg wrote: "The New York Times is flat wrong, no one at IMG has ever met or recommended Dr. Galea, nor were we worried about the progress of Tiger's recovery, as the Times falsely reported. The treatment Tiger received is a widely accepted therapy and to suggest some connection with illegality is recklessly irresponsible. Apparently the Times, like so many other news outlets on the Tiger Woods story, has abandoned principle."
Accenture Dumps Woods as Other Sponsors Back Away
The new-look Tiger Woods, sullied by reports of extramarital affairs and his own admission of "infidelity," is "no longer the right representative" for the consulting firm Accenture, according to the company.
It became the latest sponsor to distance itself from the golf superstar, and made perhaps the cleanest break yet.
"Accenture today announced that it will not continue its sponsorship agreement with Tiger Woods," the company wrote on its Web site Dec. 13.
Gillette said Saturday it would be "limiting [Woods'] role in our marketing programs" and AT&T said Friday it was "evaluating our ongoing relationship with him."
Unlike Accenture, however, neither Gillette nor AT&T explicitly suggested its partnership with Woods was over. Watchmaker Tag Heuer Monday said it was reassessing its relationship with Woods.
"For the past six years, Accenture and Tiger Woods have had a very successful sponsorship arrangement, and his achievements on the golf course have been a powerful metaphor for business success in Accenture's advertising," Accenture wrote. "However, given the circumstances of the last two weeks, after careful consideration and analysis, the company has determined that he is no longer the right representative for its advertising.
Accenture said that it wishes only the best for Tiger Woods and his family.
Companies began backing away from Woods this past weekend after he announced late Friday that he would take "an indefinite break from professional golf" to deal with family issues, most likely spurred by published claims of at least 11 extramarital affairs and links to prostitutes.
With a roster of high-profile endorsements, Woods became the first athlete to earn $1 billion, so his golf hiatus could mean major financial hits for him and the PGA Tour.
Tiger Woods' Fall From Grace 'the Greatest ... in Sports History'
Woods' formerly sterling public image began to lose its luster after he crashed his Cadillac Escalade outside his home in Florida Nov. 27 at 2:25 a.m.
An unconscious Woods was rescued by his wife, Elin Nordegren, who heard the crash and used a golf club to smash the vehicle's rear window and pull him to safety, according to police.
But there were unconfirmed media reports that Woods left the house after arguing with Nordegren and, soon afterward, reports of extramarital affairs began to pile up.
"This is the greatest fall from grace, in my opinion, of anybody in sports history," ABC News consultant and USA Today sports columnist Christine Brennan told "World News" Saturday. "Tiger was such a cultural icon, crossing over from sports into society in such a big way."
Through it all, Woods said little -- save for a few brief statements through his Web site or intermediaries.
Woods' use of the word "infidelity" on his official Web site late Friday amounted to his first public admission that he had been unfaithful to Nordegren.
"I am deeply aware of the disappointment and hurt that my infidelity has caused to so many people, most of all my wife and children," he wrote. "I want to say again to everyone that I am profoundly sorry, and that I ask forgiveness. It may not be possible to repair the damage I've done, but I want to do my best to try."
Woods seemed to acknowledge in the same message Friday that he expected a tough road professionally, as well as personally, as a result of his decision "to take an indefinite break from professional golf" in order to repair his marriage.
In his statement, he asked his associates "including my fans, the good people at my foundation, business partners, the PGA Tour, and my fellow competitors, for their understanding."
The Woods team has been in touch with Woods' sponsors as the scandal has swirled around him, Woods' agent Mark Steinberg said Friday.
"It would be both premature and inappropriate to comment on the status of specific business relationships," Steinberg said in a prepared statement. "Suffice it to say, we have had thoughtful conversations, and his sponsors have been open to a solution-oriented dialogue. Of course, each sponsor has unique considerations and ultimately, the decisions they make we would fully understand and accept."
Some Tiger Woods Associates Pledge 'Full Support'
Nike and EA Sports late Friday suggested they are making no changes regarding their relationships with Tiger.
"Tiger has been part of Nike for more than a decade," Nike spokeswoman Beth Gast said. "He is the best golfer in the world and one of the greatest athletes of his era. We look forward to his return to golf. He and his family have Nike's full support."
The EA Sports statement read, "We respect that this is a very difficult, and private, situation for Tiger and his family. At this time, the strategy for our Tiger Woods PGA Tour business remains unchanged."
The PGA Tour also said Friday it backed Woods' plan "to step away from competitive golf to focus on his family" but added, "We look forward to Tiger's return."
Tiger Woods' Trip to Sweden?
Woods and Nordegren are considering an escape to Sweden to plan their next move, according to reports. Swedish newspapers last week confirmed that Nordegren, who is Swedish, had purchased a $2 million home on an island off Stockholm, reachable only by boat.
Nordegren and Woods married in 2004. Together, they have a daughter Sam, 2, and son Charlie, 10 months.
ABC News' Ron Claiborne, Sharde Miller and Dan Arnall contributed to this report, as well as The Associated Press.
CLICK HERE to return to the "Good Morning America" Web site.