A teenage girl was charged today with following a young mother and her child for hours before snatching her 1-month-old baby from a post office parking lot while the mom was inside, authorities said today.
Baby Angel Miguel Perez was reunited with his family early today after being found unharmed with 19-year-old Andrea Walker.
North Charleston police spokesman Spencer Pryor said Walker had been trailing the baby's mother, Lydia Juarez, for more than two hours while she did her errands Monday.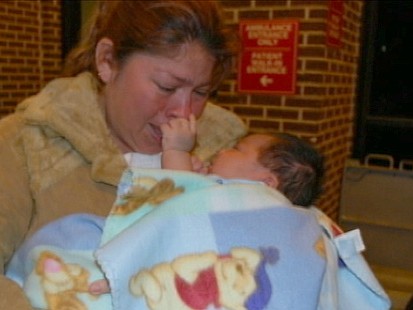 Juarez left Angel, who was born Oct. 17, strapped in his car seat at a post office parking lot with the motor running about 5 p.m. while she ran inside to buy stamps. When Juarez returned, Angel was gone.
An Amber Alert was issued and the FBI offered a $20,000 reward for information leading to Angel's recovery and the identification and arrest of his kidnapper. The alert produced tips that led police to Walker shortly after midnight today, Pryor said.
Walker, who was found with the baby about 20 miles from where he disappeared, has been arrested and charged with kidnapping. Her motive is not yet known and authorities did not specify whether the teen knew the baby.
"What a great way to lead into Thanksgiving," Pryor said at a news conference today.
At the news conference, the boy's father, Miguel Perez-Palma, said through an interpreter, "Thank you everybody for the help and the return of our baby."
It was unclear today if the tipster will earn the reward.
Pryor refused to say if police are investigating Juarez for leaving the baby alone.
"I'm not going to rain on the parade," Pryor said. "I'm just going to say we're very grateful to return this child to the parents."
Angel's Abduction Latest in String of Child Kidnappings
Shortly after Angel's disappearance a witness reported seeing a woman who "was sort of running across the parking lot of the post office to a nearby church parking lot with a child in hand." She was described as 5 feet 1 inch tall, about 175 pounds, and wearing a blue-and-white striped shirt.
Pryor said the trip to the post office was at the end of a day of errands that included trips to the doctor's office and stops at two department stores. The baby was taken inside with the mother on all of the errands before the post office stop.
At the post office, however, the mother left Angel in the car with the engine running, police said.
All doors to the mother's car were locked, except the driver's side door, she told police.
Angel's kidnapping is the most recent in a string of abductions of young children. Earlier this month, a Florida mother, Chrystina Lynn Mercer, and a babysitter were charged in the disappearance of Mercer's 7-month-old daughter, Shannon Dedrick. The infant was found in a box under a bed five days after she was reported missing.
And in North Carolina, police are investigating the rape and murder of 5-year-old Shaniya Davis, whose body was found near a highway last week. Mario O'Neill was charged with kidnapping, rape and murder while Davis' mother, Antoinette Davis, was charged with human trafficking and child prostitution.
The Associated Press contributed to this report.