Geological experts say the millions of people who felt everything from intense shaking to gentle rolling from Sunday's powerful earthquake near the Mexico border should expect more to come.
"Don't be surprised if you feel something in the next few days," said U.S. Geological Survey seismologist Lucy Jones. "We need to remember that every earthquake we have has the possibility of triggering another earthquake."
Aftershocks began shortly after the earthquake, including a powerful tremor early this morning.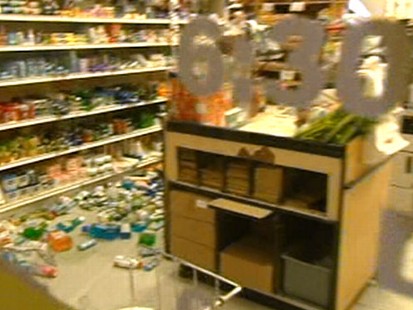 The 7.2 magnitude earthquake was the
strongest to hit the region
in decades, felt more than 300 miles away in Las Vegas.
"It was probably felt by at least 20 million people at this point," Jones said.
Two people were killed in Mexico and several were injured, many of them hit by falling objects, according to The Associated Press.
It struck at 3:40 p.m. in Baja California, Mexico. The most severe damage is south of the border in Mexicali, 19 miles from the epicenter.
"We were just looking around and things were just falling off the shelves," Elvira Lopez said not long after the earthquake hit while she was shopping. "Everything was on the ground, people were screaming."
In the U.S., law enforcement officers guarded businesses in Calexico, Calif., the hardest hit area north of the border. Police said many of the damaged buildings were built in the 1930s and 1940s and never retrofitted to withstand strong earthquakes, according to ABC's Los Angeles affiliate KABC.
Calexico Fire Chief Peter Mercado told KABC that short-circuited electrical wires sprouted fires around the city. He reported about two dozen injuries, mostly minor, as a result of the earthquake, though some suffered broken limbs in building collapses.
Powerful Mexico Earthquake Felt by Millions
In El Centro, Calif., a liquor store owner lost half his inventory to the shaking.
"It was a bad earthquake," the owner said. "It shook violently. I've never felt anything like this before."
In Tijuana, power lines came down and roadways cracked, leaving people feeling unsafe inside buildings.
Carla Navarro quickly came to the border to bring supplies to her family in Mexico.
"We took some water and food for them because there's no store open, everything's closed," she said. "No water, no electricity."
But the damage was nowhere near as bad as it could have been. By comparison, the 1994 Northridge quake was magnitude 6.7 and the Bay area's damaging 1989 Loma Prieta quake was magnitude 7.1.
ABC News' Lee Ferran and The Associated Press contributed to this story.