The husband of an allegedly intoxicated woman who killed eight people by driving the wrong way on a New York highway "had a role" in the "murder" of the motorists, a family member of the dead charged today.
Michael Bastardi's father and brother were among the eight people killed on July 26 when Diane Schuler drove the wrong way for nearly 2 miles on the busy state parkway before slamming head-on into the Bastardi's SUV which was also carrying a family friend. Schuler was killed in the crash along with her 2-year-old daughter and three nieces. Her 5-year-old son was the only survivor.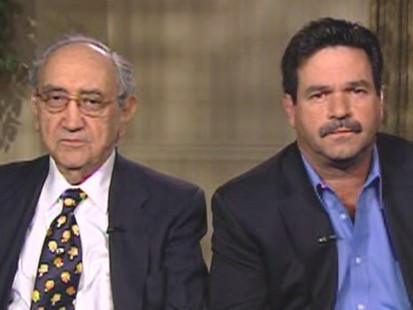 A report by the medical examiner said Schuler, 36, was
drunk at the time of the crash
, with more than twice the legal limit of alcohol in her system, and had also ingested a large quantity of THC, the active ingredient in marijuana. Diane Schuler's husband, Daniel Schuler, has repeatedly defended his wife, saying she was
not a drinker
and more likely suffered from some kind of medical condition that caused the crash.
Michael Bastardi told "Good Morning America" today that Daniel Schuler's statement was unacceptable.
"Well, denial by Daniel Schuler, how he just,you know, just got to realize one thing here. How his wife, Diane, was drunk, on drugs, and murdered my family. I think he also had a role in it," Bastardi charged.
Neither Bastardi nor his lawyer Irving Anolik explicity said how Daniel Schuler had a role in the catastrophic accident, but suggested he was hiding drug use in the family. The Schulers' lawyer, Dominic Barbara, "has admitted that his client, Daniel Schuler, is involved with drugs and has a problem with drugs," Anolik said.
"The reason I say that is that, you will recall, at his press conferences and on the Larry King show, he said that no questions will be entertained involving his client, who supposedly is a law enforcement officer in Nassau County, concerning drugs," Anolik said. "Well, to me, that is the same thing as an admission. That if the question were asked, he'd probably have to invoke his privilege against self-incrimination."
Daniel Schuler is a public safety officer with the Nassau County Police Department on Long Island.
Anolik said he would ask the Westchester County District Attorney to convene a grand jury to force Daniel Schuler to answer questions under oath.
"There are questions that we need answered," Bastardi said.
Barbara, Schuler's lawyer, could not be immediately reached for comment.
Daniel Schuler announced with his lawyer on CNN's "Larry King Live" that he wants his wife's body exhumed and more tests be done in order to clear her name.
"We of course take no position on that. We're quite satisfied with the integrity of the medical examiner's report," Anolik said.
Eight Killed in Horrific Wrong Way Crash
On July 26 Diane Schuler left a New York campground with her two children and three nieces in her van. Just hours later, Schuler was weaving wildly through oncoming traffic for nearly two miles before the crash ended so fatally.
While driving Schuler called her brother and said she was not feeling well. He asked her to pull over but she did not. Her brother was concerned enough to call the police.
Police believe it was approximately two hours after that phone call to her brother when Schuler turned down the exit ramp driving the wrong-way.
Prosecutors have said they will not file charges in relation to the crash.
"Diane Schuler died in the crash and the charges died with her," Westchester County District Attorney Janet DiFiore said.
Taconic Crash Toxicology Report
In early August investigators said Schuler had at least 10 drinks and had large quantities of THC, the active ingredient in marijuana, in her system before driving the wrong-way down the Taconic State Parkway.
Schuler had a blood alcohol level of .19, more than double the legal limit, according to a statement released by Difiore, citing a Westchester County medical examiner toxicology report.
Betsy Spratt, Westchester director of toxicology, said "there were approximately 10 drinks still in her" that had not metabolized yet.
Investigators have not yet determined if Schuler was drinking while driving, but a bottle of vodka was found at the crash scene, according to State Police Major William Carey.
The report also found "high" levels of THC, the active ingredient in pot, but it was not clear when or how much Schuler smoked.
"With that level of alcohol we talk in ranges. She would've had difficulty with perception, judgment and memory. Around that level you get tunnel vision," Spratt said.
Husband Denies Schuler was Drunk
Schuler's husband, Daniel, insisted that the toxicology report was wrong and said he has never seen her drunk.
"She did not drink. She was not an alcoholic," he insisted on Aug. 6. "Something medically had to have happened."
Barbara, the Schuler's lawyer, said Diane Schuler was a diabetic, suggesting that may have contributed to her disoriented condition on the morning of July 26.
Barbara also suggested Schuler may have suffered from a stroke, although the autopsy report showed no signs of stroke.
The co-owner of the upstate New York campground said she saw Diane Schuler leave that morning.
"If she had alcohol on her breath, I sure didn't smell it," Scott said. "The last thing I said to her was 'have a safe trip home' and she said, 'We will' and that was the end of it."
Despite what the toxicology report indicated, Daniel Schuler insisted on Larry King Live earlier this month that his wife had not been drinking.
"We will know the truth and I know my wife. She's not an alcoholic," Schuler told King.
"But I mean , OK, but we'll never know. And since we'll never know, why keep on doing this?" King asked.
"The truth, the truth will come out," Schuler responded.
"Does it give you pause to think that maybe, just maybe she was a drinker and you didn't know it," King asked.
"I've been with her 13 years," Schuler said. "Absolutely not."
During the interview Schuler was asked what he would say to the relatives of the people in the other car.
"Oh, I say that a drunk driver did not do this to your family. Something medically had to have happened," Schuler said.
ABC News' Kate McCarthy contributed to this report.