— -- A junior at the University of Nebraska, Omaha, said she was kicked out of her sorority after violating its "human dignity rule" by posting a photo of herself on the dating app, Tinder, while she was wearing her Greek letters.
A tank top, which read, "Sweet Home Chi Omega," was worn by Shannon Workman, 20, in her Tinder profile photo. The Chi Omega sorority deemed the photo as "promiscuous and risqué" according to Shannon and her mother, Jill Workman.
"They said that the fact that I was wearing my letters made it break a policy that it can't be posted on Tinder and I asked why I didn't [sic] get the eight-hour warning like everyone else does for social media violations," Shannon Workman said today on "Good Morning America." "[The adviser] said it was because pictures that are promiscuous or risqué in nature require a personnel meeting."
Shannon's departure from the Chi Omega sorority became well known after Jill posted the story on Facebook on April 4.
Jill wrote that her daughter was "kicked out" eight months after the photo was uploaded on Tinder.
She also wrote that her daughter insisted that the sorority's "human dignity rule" was convoluted and confusing and there's "no way" a person would "have the slightest idea" of knowing if there was a violation.
"When she wouldn't tell them what they wanted to hear that she was in the wrong and breaking some rule...they kicked her out for her attitude," Jill wrote. "I'm so proud of my daughter for sticking up for herself and not letting this person who is on a power trip break her. Shannon was at no time disrespectful in anyway shape or form she simply asked some questions about this rule. Shannon had dedicated the past three years of her life to this sorority and loved it and all her sisters."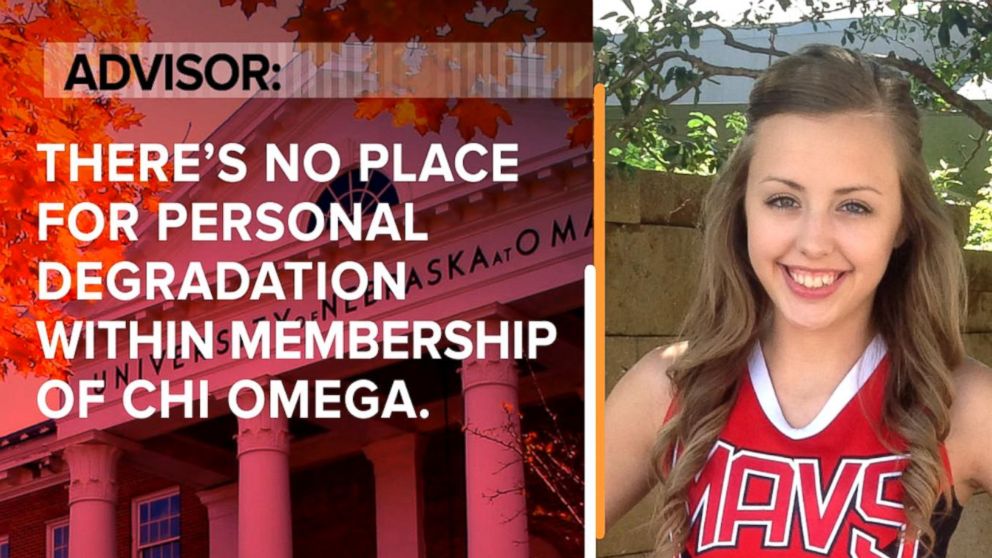 Shannon recorded what she said was her disciplinary meeting with her chapter administrators to address their concerns about the picture.
On the tape, the administrators can be heard saying Shannon violated the sorority's "human dignity rule" by wearing the Chi Omega shirt on a site they said was meant for finding "hook-ups."
"There is no place for personal degradation within membership of Chi Omega," one adviser can be heard telling Shannon.
"I think you should have told me to take it down," Shannon said. "I would have said yes."
"I think they did ask you to take it down," the adviser said.
Shannon responded: "Yeah and I did. That should have been the end of it."
According to Shannon, the meeting became tense and she was told that she should have apologized instead of "attacking" and showing "disrespect."
"At this point we're going to pursue membership revocation," the adviser explained to Shannon.
Rather than going through the process of ending her membership, Shannon said she decided to walk away on the spot, telling the adviser that she was "never coming back."
A rep from Chi Omega's national organization told ABC News that its "process offers a series of checks and balances to ensure any sanctions imposed are reasonable and fair. Shannon opted to voluntarily resign her membership. The national organization offers an appeal process to those who do not voluntarily resign."
Shannon said the adviser did not give her the option of appealing.
"I was so humiliated after all of that," she said.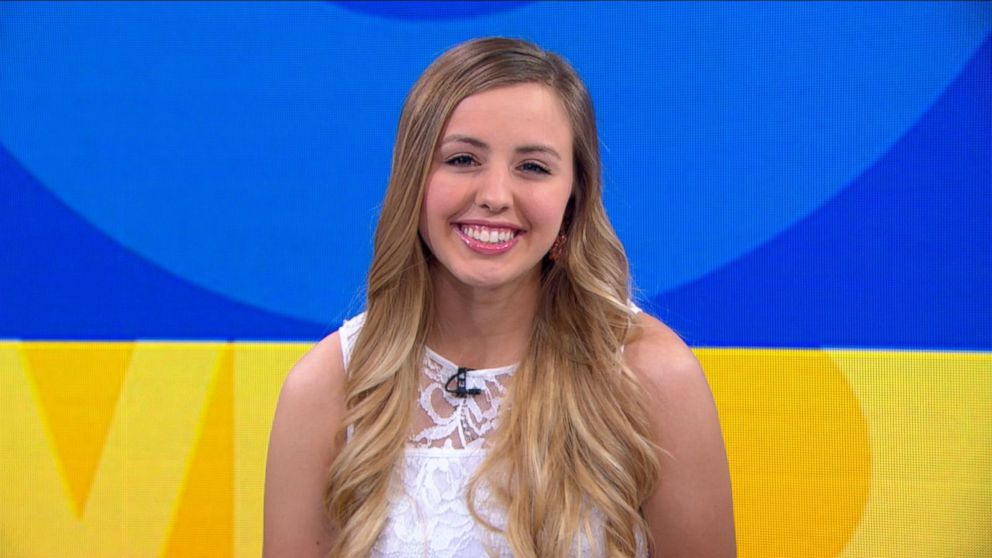 Chi Omega's "policy on human dignity" is posted on the national organization's website. The national organization refers to itself as a fraternity.
It reads: "Chi Omega Fraternity believes that dignity, self-esteem and respect are inalienable rights of each individual and that there is no place for personal degradation within the membership of Chi Omega. Members ascribe to the belief that: every person is important in a civilized society and has something of truth and wisdom to offer; self-respect, esteem and respect for others are necessary for healthy relationships; and harassment, hazing or bullying is detrimental in building self-respect."
The policy's last revision was in 2014, according to the sorority's website.
ABC News was also unable to confirm if Shannon's two female friends, who appeared in the photo posted to Tinder, were disciplined as well. The friends were shown wearing the exact same shirt as Shannon, which has Chi Omega's Greek letters displayed on the front.
Charley Reed, the associate director of media relations for the University of Nebraska, Omaha, told ABC News that the university does not have control over any day-to-day, personnel, or membership decisions of its Greek sororities and fraternities.
Those decisions are handled by alumni advisers and national organizations, he added.
"The University of Nebraska, Omaha, is aware of an internal decision made recently by a local chapter of Chi Omega," Reed said. "We continue to be committed to the success and well-being of all of our students and are providing support however we can."
Reed also said the decision made by Chi Omega has no impact on Shannon's standing at the university, which is "committed to her success as a student."
Shannon said her former sorority sisters and family members continue to support her during this time.
Tinder did not respond to ABC News' request for comment.