The World Series started last night at Yankee Stadium, but it was the Philadelphia Phillies grabbing victory in Game 1.
Phillies starter Cliff Lee pitched a complete game as the National League champs beat the Yankees 6-1. That's good news for Philadelphia Mayor Michael Nutter, because he and New York City Mayor Michael Bloomberg have entered into a mayoral wager for the ages, with more than cheese steaks and hot dogs on the line.
The mayor of the losing city will travel to the winning city and participate in a service event.
"Whoever wins gets the other guy to come and wear the winner's shirt" during the event, Bloomberg explained today on "Good Morning America."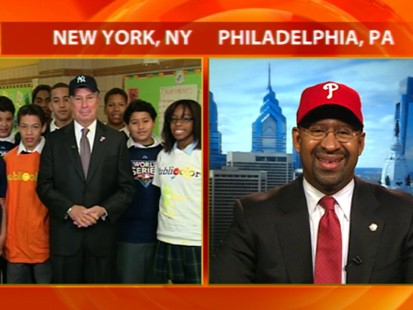 "The last thing that any politician really needs is another meal. We wanted it to have an impact in our respective communities," Nutter said. "We had some community partners step up … each of our cities would benefit."
Bloomberg, appearing at a school in Washington Heights, said the bet was inspired by President Obama's call for a new commitment to service and Major League Baseball's work in communities across the country.
Nutter also said this year's bet was designed to "change the whole focus" and put more attention on community service.
If the Phillies win, Bloomberg will take part in painting a recreational center in Philadelphia -- "which will probably never happen," he joked -- and if the Yankees win, Nutter will participate in painting a school in New York.
Major League Baseball 'Going Beyond'
First lady Michelle Obama and second lady Jill Biden were in attendance at Wednesday night's World Series game, after they spent the day with wounded veterans in the Bronx.
Along with Yankee great Yogi Berra, the two women escorted retired U.S. Army Capt. Tony Odierno to the mound to throw out the ceremonial first pitch.
Their participation was part of Major League Baseball's "Going Beyond" initiative, which supports programs for veterans, cancer research and youth development.
Nutter, joining "GMA" from Philadelphia, said he would be traveling to New York for Game 2 tonight.
"I'm going to be up to see you and see if we can replay what we did last night," he said. "We're sizing up that jersey for you," he told Bloomberg.
But of course Bloomberg hasn't given up on the Bronx Bombers.
"What size is your Jersey?" he replied.
CLICK HERE for more information on Major League Baseball's work in the community.
CLICK HERE for more on the World Series from ESPN.
CLICK HERE to return to the "Good Morning America" Web site.