Britain's Prince Harry says he doesn't believe enough will ever be done for the veterans injured in Afghanistan, but he says support for them must continue.
"We're always going to learn from our mistakes, I think," the 25-year-old son of Prince Charles and the late Princess Diana told ABC News' Bob Woodruff in an exclusive interview in New York this weekend.
The prince was in town to promote cooperation between British and American troops, and his schedule included a visit to the U.S. Military Academy at West Point in Highland Falls, N.Y., a meeting with veterans at the Intrepid Sea, Air and Space museum and running alongside injured veterans in a race at Central Park.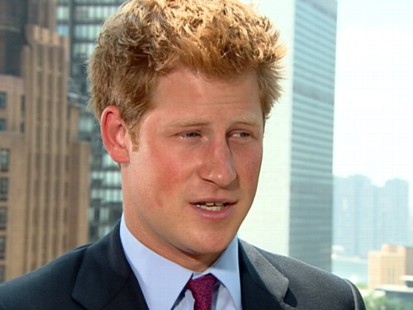 "We just sort of fight together and get wounded together. After that, we sort of get split two separate ways and I just would love to see, and I'm sure you and everyone would like to see, both sides of the Atlantic learning from each other and working together," he said.
Harry Wants to Support Brothers-in-Arms
Harry's previous tour of duty in Afghanistan ended abruptly after an Australian magazine reported his location, putting his entire unit in jeopardy. Despite the danger, he wants to go back.
"At the end of the day you train for war. It's simple as that. If we could be at peace, then that would be fantastic, but if we're at war, then you want to be with your brother in arms," he said. "And whether it's your guys from your own country or America or any other armed forces that are out there helping as well … you train for a reason and you want to be there. You want to help your buddies left and right of you."
"As long as my military career allows it and politically it's allowed," Harry said, "then I'll serve my country as any other soldier."
The prince also used his visit to promote awareness about the plight of needy children in Africa and his charity, Sentebale, which provides support for children and orphans in Lesotho.
Prince Harry Hopes to Continue Mother's Legacy
His work in Lesotho, one of Africa's poorest nations, was inspired by his mother's charity work. At least one-quarter of the population in Lesotho is infected with the AIDS virus.
Harry visited Lesotho for the first time after his mother's death, and established his charity in her memory.
Harry competed in a polo match on Governors Island on Sunday, but his team lost. Nevertheless, the 3rd Annual Veuve Clicquot Polo Classic was a fundraising success.
"With your support the 400,000 orphans and vulnerable orphans of Lesotho can find hope where there is none," Harry, who took a tumble from his horse during the competition, told attendees at the event. He quickly got back on his horse and continued the match.
Africa is close to Harry's heart, and to that of his brother, Prince William.
"It always has been," Harry, the younger son of Charles and Diana, told Woodruff. "I love the people, I love everything about it. Obviously my mother had a soft spot for Africa as well and both me and William adore being there. We have a chance of a bit of freedom and a chance just to be at one with nature. It's a very special place."
Last week, Harry made a very personal and private trip to Mozambique to view his mother's landmine-clearing charity first hand.
Diana was a passionate activist for the sick and the poor all across the world, but particularly for those in Africa. In the late 1980s, photos of Diana touching, holding or embracing AIDS victims sent shockwaves throughout the world and helped change how people viewed those with HIV/AIDS.
"Good on her," Harry said of his mother's actions. "And that is something that William and I hope to carry on in her name or as much as we can anyway, but it's, you know, sometimes it takes something like that to really bring it home to people about what is going on out there."