12 Days of Cooking: Emeril's Chicken and Andouille Jambalaya
Recipe Courtesy Emeril Lagasse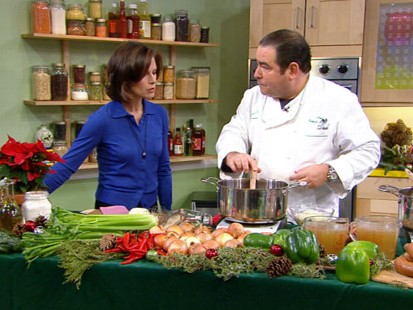 The master chef cooks turkey bone gumbo, chicken and andouille jambalaya.
From the kitchen of Emeril Lagasse
|
Get dinner done with Emeril's jambalaya. This classic New Orleans dish is simple to make and even easier to enjoy.
Ingredients
3 pounds bone-in chicken thighs, about 6, trimmed of excess fat
2½ teaspoons salt
1½ teaspoons freshly ground black pepper
3 tablespoons canola oil
1½ pounds smoked andouille sausage, cut into ½ inch dice
2 large yellow onions, chopped
4 medium ribs celery, chopped
1 green bell pepper, chopped
1 bunch scallions, finely chopped, green and white parts reserved separately
6 cloves garlic, minced
2 tablespoons tomato paste
1 can (4 ounces) chopped green chiles, with juices
1 teaspoon dried thyme leaves, crumbled between your fingers
1 bay leaf
½ teaspoon crushed red pepper
½ teaspoon Tabasco or hot pepper sauce
1½ teaspoons Emeril's Original Essence or Creole Seasoning
4 cups chicken stock or canned, low-sodium chicken broth
One 14.5 ounce can diced tomatoes with juices
3 cups long grain white rice
½ cup chopped fresh parsley leaves
Cooking Directions
Season the chicken on both sides with 1 teaspoon of the salt and 1 teaspoon of the black pepper. Heat the oil in a large Dutch oven over high heat. Add the chicken to the Dutch oven and cook until browned on both sides, 3 to 4 minutes per side, working in batches as necessary. Transfer the browned chicken to a platter and set aside.
Add the sausage to the Dutch oven, reduce the heat to medium high, and cook, stirring until the sausage is browned, 4 to 5 minutes. Transfer the sausage to the same platter with the chicken. Add the onions, celery, bell pepper, scallion bottoms, garlic, and tomato paste to the Dutch oven and sauté over medium heat until the vegetables are tender, about 5 minutes. Stir in the green chiles, thyme, bay leaf, crushed red pepper, hot sauce, and Essence. Return the chicken and sausage to the pan, along with the chicken stock and diced tomatoes and bring to a brisk simmer. Cover and reduce the heat to low and cook for 30 minutes, or until the chicken is nearly tender and the broth has absorbed the flavor of the sausage and the seasonings.
Increase the heat to high and add the rice, the chopped scallion tops, and the remaining salt and pepper. Stir well and return to a boil. Immediately reduce the heat to low, cover, and simmer until the rice is cooked and has absorbed all the liquid, about 20 minutes. Remove from the heat, gently stir in the parsley, cover, and let stand 15 minutes before serving.
This recipe was styled by chef Karen Pickus for Good Morning America.
Recipe Summary
Main Ingredients: chicken, andouille sausage, salt, oil, celery, onion, pepper, scallions, garlic, tomato paste, green chiles, chicken stock
Course: Party Platter, Dinner, Main Course
Other Recipes That You Might Like