Patriotic Confetti Cake Pops Recipe
Kids Will Love This Fun and Festive 4th of July Dessert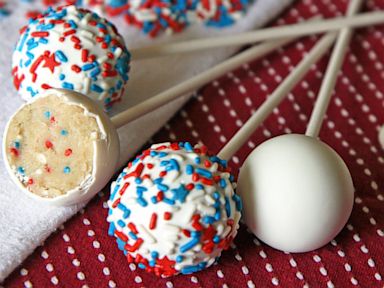 From the kitchen of Kris Galicia Brown
Looking for a 4th of July dessert to impress? Guests of all ages will love this patriotic confetti cake pop recipe from Kris Galicia Brown, author of "Pop Art: Decorating and Shaping Custom Cake Pops." These will make a fun and festive -- not to mention delicious -- addition to your Independence Day gathering!
Ingredients
For the cake pops:
Vanilla cake (9x13)
3- 4 tbsp patriotic sprinkles of choice, plus more for decorating if desired
3 tbsp frosting, plus more if needed (Kris' recipe here)
2 bags (24-32 ounces) white candy wafers (Available at cake supply stores or craft stores such as Michael's, Hobby Lobby or A.C. Moore).
To Assemble:
Wax paper-lined baking sheet or pan
Small, deep microwave-safe plastic bowl or cup
30-48 paper lollipop sticks
Toothpicks
Styrofoam block
Cooking Directions
Bake a vanilla cake (click here for the recipe which makes 48 pops) or use a box mix and let it cool completely. Once the cake is completely cooled, crumble the cake in a large bowl using your hands or with a stand mixer, using the paddle attachment, at a low setting to crumble completely. Add 3 tablespoons of patriotic sprinkles and mix into the crumbled cake.
Start off by adding 3 tablespoons of frosting and gradually add more (1 tablespoon at a time if needed) to achieve a play-dough consistency. A cake made from scratch will need a couple of tablespoons more frosting than a box mix cake. Combine by hand or with a stand mixer at a low setting using the paddle attachment. It will take a few minutes to fully combine. Please note that using cake made from scratch, like my recipe here, will yield more cake pops than a cake made using box mix.
Once the cake and frosting have formed a "dough," use a cookie scoop to make uniform portions. Each portion should be about 2 tablespoons of dough. Shape them into balls using your hands and place on a wax paper-lined baking sheet or pan, then refrigerate for 15 minutes.
Decorating:
Remove round cake balls from the refrigerator and let rest in room temperature for about 5-10 minutes.
Melt the white candy wafers in a microwave-safe plastic bowl or cup using the microwave instructions on the package; stir to mix well between heating intervals.
One at a time, dip the tip of a paper lollipop stick into the melted candy coating, about 1/3-inch, and insert the stick into the bottom (small flat portion that rested on the baking sheet) of a round cake ball, pushing it through about 3/4-inch, or about half-way through the ball.
Once all the sticks have been inserted, stir the melted candy coating again to make sure the consistency is even before starting to dip the cake pops. Then, one at a time, dip each ball into the candy coating vertically until fully submerged. Pull out vertically and gently shake any excess coating off in an up-and-down motion while still upside down. Turn right-side up and tap off any remaining excess coating using the side of the bowl or cup if necessary.
As you allow the excess coating to come off of the cake pop, pop any air bubbles with the tip of a toothpick and lightly shake to allow the candy melts to evenly cover the area.
If decorating with the patriotic sprinkles is desired, sprinkle coated cake pop before it sets and hardens. Work over a bowl or plate to catch the excess sprinkles. If you find that the sprinkles is causing "sagging" throughout your coating, wait a few seconds longer before sprinkling.
Place on the styrofoam block and let dry completely. Store in the refrigerator in an airtight container with paper towels between each layer of cake pops.
The styrofoam block can also be used to display these cake pops! Wrap the styrofoam in patriotic wrapping paper and carefully arrange the cake pops evenly around the block by carefully piercing the sticks through the wrapping paper and into the styrofoam.
Note: Kris' cake recipe makes approx. 48 pops.
Photo and recipe courtesy of Kris Galicia Brown, author of "Pop Art: Decorating and Shaping Custom Cake Pops, to be released November 2013."
Recipe Summary
Main Ingredients: vanilla cake, sprinkles, frosting, lolipop sticks
Course: Dessert