Adam Perry Lang's Green Apple, Cabbage, and Caraway Slaw
Coleslaw Gets a Sour Apple Twist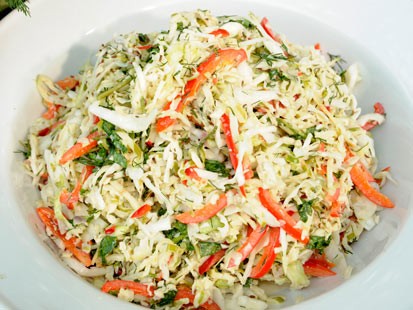 From the kitchen of From Charred & Scruffed by Adam Perry Lang
|
At my first barbecue competition in Des Moines, Iowa, one of the old-timers who was cruising the grounds in a golf cart stopped to chat and then took me under his wing. We started to talk about food, as one deeply interested professional to another.
"I'd love to show you my Walla Walla onions," he said with paternal pride. I'm always glad to taste someone's prize ingredients, and thankful for
their sharing.
I think my genuine appreciation of his gesture moved him. With the air of a seasoned veteran offering advice to a newcomer, he said, "If you want to win, think apple."
I gave his advice some serious thought. Champion barbecuers often inject their creations with apple juice or slather them with apple jelly or both. So, as the saying goes, when in Rome . . .
I Microplaned some Granny Smith apples and added them to my board dressing, which was a new way of using an ingredient that the judges knew and liked. The technique has become my secret weapon for waking up barbecue flavors.
This slaw is slightly acidic and tangy from the green apple. It has massive crunch and little flavor capsules of caraway. I love it with the Smoked Pork Shoulder with Lime Coriander Salt.
Ingredients
6 cups finely shredded green cabbage
2 red bell peppers, cored, seeded, and thinly sliced
2 tablespoons granulated sugar
For the dressing:
½ cup mayonnaise
¼ cup sour cream
¼ cup white wine vinegar
2 tablespoons finely chopped
Spanish onion
1 tablespoon caraway seeds, toasted in a small skillet and finely ground
Sea or kosher salt and freshly ground black pepper
4 Granny Smith apples, halved, cored, and cut into julienne (skin left on)
2 cups small watercress sprigs
2 tablespoons finely chopped shallots
2 tablespoons thinly sliced (on the bias) red chile pepper
2 tablespoons thinly sliced (on the bias) scallions
½ cup fresh dill leaves
¼ cup chopped fresh flat-leaf parsley
Cooking Directions
Combine the cabbage and bell peppers in a large bowl and mix well. Toss with the sugar and allow to macerate for 15 minutes.
For the dressing, combine all the ingredients in a blender and blend until smooth.
Add the apples, watercress, shallots, chile pepper, scallions, dill, and parsley to the cabbage and peppers and mix well. Toss with the dressing to coat and serve.
Recipe courtesy Adam Perry Lang.
This recipe was styled by chef Karen Pickus for Good Morning America.
Other Recipes That You Might Like