Alex Guarnaschelli's Devil's on Horseback
A Delicious Combo of Prunes and Bacon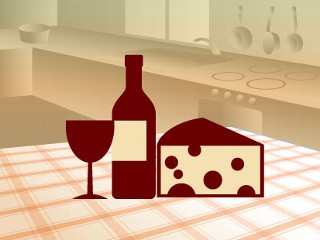 From the kitchen of Alex Guarnaschelli
"I like to plump the prunes (or cheap Brandy) in some Cognac for a few hours before wrapping them in the bacon."
Ingredients
For the sauce:
¼ cup neutral honey
1 vanilla bean, split
¼ cup Sherry vinegar
1 tablespoon golden raisins
1 small green apple, peeled, cored and cut into a small (1/4 inch) dice
For the prunes:
12 medium to large prunes, pitted
Cracked black pepper
12 thin slices of bacon
Cooking Directions
Preheat the broiler.
Make the sauce: Heat a medium skillet and add the honey and the vanilla bean halves. Cook over medium heat until it bubbles and browns slightly, 5-8 minutes.
Remove the skillet from the heat and carefully add the Sherry vinegar and the raisins. Take care as this mixture is very hot. Return the pan to the heat and allow it to cook for an additional 8-10 minutes over low heat. Remove from the heat and transfer the mixture to a bowl to cool. Stir in the apple and set aside.
Prepare the prunes: Season the prunes generously with black pepper. On a flat surface, lay out a strip of the bacon and roll the prune tightly in the bacon. Don't wrap the prune more than three full times or it will throw off the balance between fruit and bacon. Put the prune on a baking sheet, seam side down (so the weight of the prune keeps the bacon around it). Repeat with the remaining prunes and bacon. Arrange them, somewhat apart, on the tray.
Cook the prunes: Place the baking sheet under the broiler for a few minutes, watching carefully so they don't burn, and allow the bacon to brown. Remove the tray from the broiler and carefully pour the wine into the baking sheet. Return the tray to the broiler and continue to cook the bacon, basting from time to time, until the bacon becomes brown and crispy, 10-15 minutes. Transfer to a serving platter and top with the sauce.
Recipe courtesy Alex Guarnaschelli.
This recipe was styled by chef Karen Pickus for Good Morning America.
Recipe Summary
Main Ingredients: prunes, green apple, honey, bacon
Course: Appetizer/Starter