Alton Brown's Banana's Foster
A Quick Dessert You Have to Try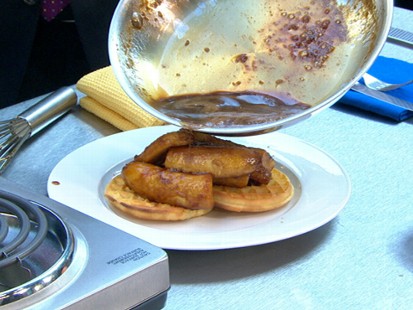 TV chef discusses mentoring his own team on an all-new "Food Network Star."
From the kitchen of Alton Brown
This quick dessert only takes a few minutes to make. Serve it over your favorite ice cream.
Ingredients
2 tablespoons unsalted butter
1/4 cup dark brown sugar
1/4 teaspoon ground all-spice
1/2 teaspoon freshly ground nutmeg
1 tablespoon banana liqueur
2 under-ripe bananas, sliced in half lengthwise
1/4 cup bourbon
1/2 teaspoon orange zest
Cooking Directions
Melt the butter in a 10-inch heavy skillet, over low heat. Add brown sugar, allspice and nutmeg and stir until sugar dissolves. Add banana liqueur and bring sauce to simmer.
Add the bananas and cook for 1 minute on each side, carefully spooning sauce over bananas as they are cooking. Remove bananas from pan to a serving dish.
Return sauce to a simmer and carefully add the bourbon. If the sauce is very hot, the alcohol will flame on its own. If not, using a stick lighter, carefully ignite the sauce and continue cooking until flame dies out. Approximately 1 to 2 minutes. If sauce is too thin cook for 1 to 2 minutes until it is syrupy in consistency. Add orange zest and stir to combine. Immediately, spoon the sauce over bananas and serve.
Serve with waffles, crepes, or ice cream.
This recipe was styled by chef Karen Pickus for Good Morning America.
Recipe courtesy Alton Brown, 2012
Recipe Summary
Main Ingredients: butter, brown sugar, bourbon, orange zest
Course: Dessert
More Info: Kid Friendly