Alton Brown's Grilled Leg of Lamb with Pomegranate Molasses
A Hint of Sweetness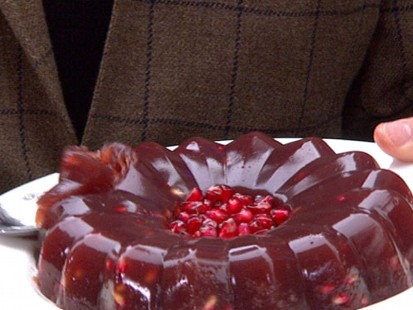 The famous chef puts a twist on classic recipes using pomegranate.
From the kitchen of Alton Brown
Make your own deliciously sweet pomegranate molasses. This can be used in this lamb dish or as a hint of pomegranate flavor in any dessert.
Ingredients
4-5 pound boneless leg of lamb, rolled and tied
1/2 cup pomegranate molasses, plus extra for serving
Kosher salt and freshly ground black pepper to taste
For the molasses:
4 cups pomegranate juice
1/2 cup sugar
1 tablespoon freshly squeezed lemon juice
Cooking Directions
For Molasses: Place the pomegranate juice, sugar and lemon juice in a 4-quart saucepan set over medium heat. Cook, stirring occasionally, until the sugar has completely dissolved. Once the sugar has dissolved, reduce the heat to medium-low and cook until the mixture has reduced to 1 cup, approximately 70 minutes. It should be the consistency of thick syrup. Remove from the heat and allow to cool in the saucepan for 30 minutes. Transfer to a glass jar and allow to cool completely before covering and storing in the refrigerator for up to 6 months.
For the Lamb:
Preheat the grill to 375 degrees.
Unroll the lamb and brush on all sides with the molasses. Season on all sides with salt and pepper. Roll the lamb up and secure with butchers twine. Place the lamb over indirect heat and cook for 15 minutes, brush with the molasses again. Turn ¼ turn and cook for another 15 minutes. Complete the brushing and turning procedure 2 more times for a total cooking time of approximately 1 hour or until the lamb reaches an internal temperature of 130 degrees. Remove from the heat and allow to rest 10 minutes before slicing and serving. Serve with additional molasses if desired.
Recipe courtesy Alton Brown.
This recipe was styled by chef Karen Pickus for Good Morning America.
Recipe Summary
Main Ingredients: lamb, pomegranate, lemon juice, sugar
Course: Dinner
More Info: Kid Friendly