Alton Brown's Pomegranate Jello
Make This Pretty Pink Jello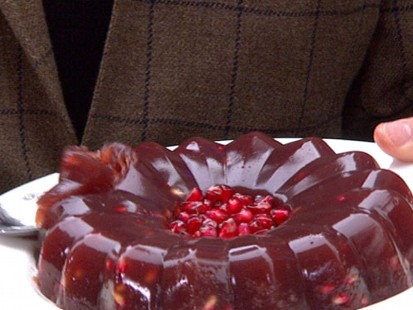 The famous chef puts a twist on classic recipes using pomegranate.
From the kitchen of Alton Brown
|
This pretty pink jello has pomegranate seeds scattered throughout it. This makes a really nice light dessert, or as a palate cleanser.
Ingredients
2 cups pomegranate juice, not from concentrate
2 envelopes unflavored gelatin
2 tablespoons sugar
1/2 cup pomegranate seeds
Cooking Directions
Place 1/2 cup of the pomegranate juice into a medium mixing bowl and sprinkle the gelatin on top. Set aside.
Place the remaining juice and the sugar into a small saucepan and place over high heat. Bring just to a boil. Remove from the heat and add to the juice and gelatin mixture, stirring to combine. Place the bowl into the refrigerator and chill, just until the mixture begins to set up, approximately 30 to 40 minutes. Remove from the refrigerator and stir in the seeds. Place into a 2 cup mold of your choice or 4 1/2 cup individual molds and chill until set.
This recipe was styled by chef Karen Pickus for Good Morning America.
Recipe courtesy Alton Brown.
Other Recipes That You Might Like