Alton Brown's Thai Iced Tea Pops
A Refreshing Sweet Treat for Summer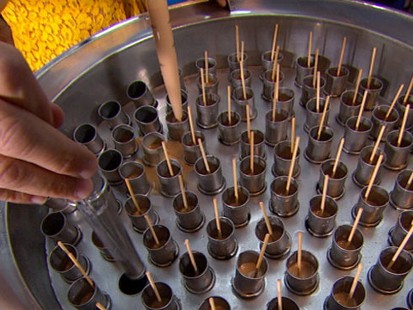 "Food Network Star" host reveals recipes that will help you beat the heat this summer.
From the kitchen of Alton Brown
|
Turn your favorite tea into iced tea pops. Chef Alton Brown gives the popsicle an upgrade with this Thai twist.
Ingredients
1 quart water
6 family sized black tea bags
1 (14 ounce) can sweetened condensed milk
1/2 teaspoon vanilla extract
1/2 teaspoon kosher salt
1/4 teaspoon ground cinnamon
1/8 teaspoon ground clove
1/8 teaspoon ground cardamom
Cooking Directions
Bring the water to a boil in a 2-quart pot over high heat. Cool for 10 minutes. Add the tea bags and steep for 15 minutes. Remove the tea bags and pour the tea into a large pitcher. Add the sweetened condensed milk, vanilla extract, vanilla, salt, clove, and cardamom and stir until well combined.
Refrigerate the mixture until to 40 degrees F, approximately 8 hours or overnight.
Divide the chilled mixture between popsicle mold and freeze until firm, approximately 4 to 8 hours, depending on the size of the molds.
Yield: 12 pops
Active Prep Time: 45 minutes
Cook Time: 15 minutes
Inactive Cook Time: 12 to 16 hours
Recipe courtesy of Alton Brown, 2013.
This recipe was styled by chef Karen Pickus for Good Morning America.
Other Recipes That You Might Like