Alton Brown's Worms and Dirt Recipe
A Fun Halloween Treat for Kids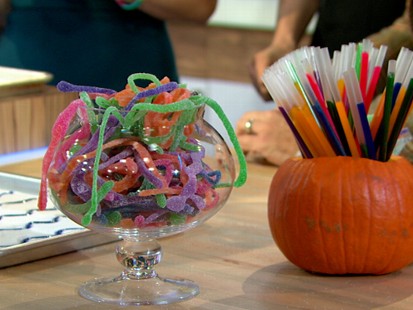 Alton Brown reveals his secret behind making popular Halloween treat in your kitchen.
From the kitchen of Alton Brown
|
Celebrate Halloween with this fun and kid-friendly dessert recipe.
Ingredients
For the Worms:
8 cups sugar, divided + 3/4 cup (6 ounces) sugar
5 tablespoons plus 1 teaspoon citric acid, divided, optional
3 tablespoons + 1 teaspoon (5 packets or 1 1/4 ounces) unflavored powdered gelatin
1/3 cup + 1/4 cup cold water, divided
1/2 cup (5 ounces) corn syrup
2 teaspoons flavoring oil
Food coloring, as desired
Special equipment: 16 ounce squeeze bottle, drinking straws or candy molds, optional
For the Dirt:
1 cup heavy whipping cream
1 cup chocolate syrup
Special equipment: cream whipper with straight tip and 1 C02 cartridge
Cooking Directions
To Make the Worms:
Divide the 8 cups of sugar onto two half-sheet pans and add 2 tablespoons citric acid to each, if making sour worms. Spread into an even layer and set aside.
Whisk together the gelatin and 1/3 cup water in a 2-quart saucier. It will be clumpy. Set aside to bloom while you prepare the sugar syrup.
Combine the remaining 3/4 cup sugar, corn syrup, and remaining 1/4 cup water in a 2-quart saucepan over medium heat. Bring the sugar syrup to 160 degrees F. Remove from the heat and pour over the gelatin. Return to low heat and whisk until the gelatin is completely dissolved, 2 to 3 minutes.
Remove from the heat and add the flavoring oil, food coloring and remaining 4 teaspoons citric acid, if using. Whisk to combine.
Pour the mixture into a squeeze bottle and cool to 100 degrees F before squeezing shapes out onto prepared sugar pan. Work in batches, allowing the worms to set for at least 20 minutes before removing from the sugar. The gelatin can be reheated by dipping the squeeze bottle in a warm water bath and reheating to 100 degrees F.
Alternately, drinking straws or candy molds can be filled. Allow the gelatin to set for at least 20 minutes before moving. For best results, leave the candy at room temperature overnight (8 to 12 hours) before storing in an airtight container or zip-top bag.
To Make the Dirt:
Combine the heavy cream and chocolate syrup in a 2 cup measuring cup. Pour into the cream whipper and charge with 1 cartridge CO2. Shake 8 to 10 times to combine and let sit for 1 minute.
Dispense into serving vessels and serve immediately with worms.
Recipe courtesy Alton Brown.
This recipe was styled by Karen Pickus.
Other Recipes That You Might Like