Amanda's Favorite Stuffing
Simple Stuffing You'll Love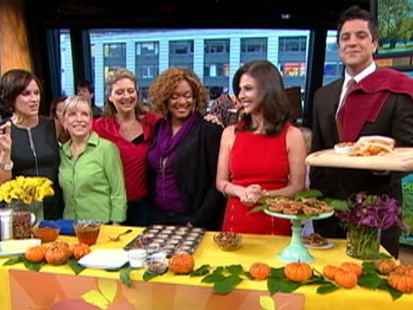 Carving tips, plus Amanda Freitag's stuffing recipe and Sunny Anderson's mini pumpkin pecan pies.
From the kitchen of Amanda Freitag
Try this delicious stuffing from Amanda Freitag. Made with cornbread and challah, it will quickly become a family favorite.
Ingredients
4 cups cubed Challah bread
4 cups cubed Corn bread
8 Tbsp butter
2 onions, diced
6 cloves garlic, sliced
4 celery stalks, diced
1/3 cup sage, chiffonade
½ cup parsley, chopped
1 tsp cracked black pepper
4-6 cups chicken stock
Kosher salt to taste
Cooking Directions
Preheat the oven to 350. Prepare a 9x 13" roasting pan with vegetable spray. Toast the challah and the cornbread on separate sheet pans in a 350-degree oven until. Lightly toasted and dry. Transfer the dried bread cubes to a large bowl.
Heat the butter in a large sauté pan over medium heat. Add the onions, garlic and celery and cook until the onions are translucent. This should take approximately 10-12 minutes. Add to the onions the sage, parsley and the chicken stock and bring to a boil. Season this mixture with salt and 1tsp of cracked black pepper. Pour this mixture over the bread in the bowl and thoroughly mix together with a spoon. Spoon the stuffing mixture into the pan and press down lightly so that it is evenly distributed. Bake in oven for 45minutes to one hour and serve.
Recipe courtesy chef Amanda Freitag.
This recipe was styled by chef Karen Pickus for Good Morning America.
Recipe Summary
Main Ingredients: challah, corn bread, butter, parsley
Course: Side Dish