White House's Summer Chopped Salad
A Colorful, Crunchy and Satisfying Dish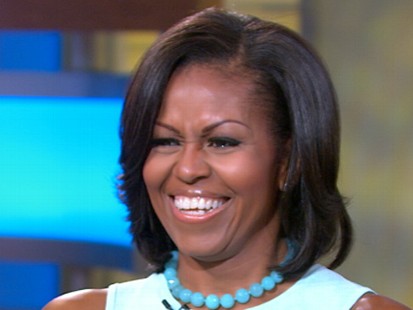 The first lady's book about gardens benefits the National Park Foundation.
From the kitchen of "American Grown: The Story of the White House Kitchen Garden and Gardens Across America"
This colorful, refreshing salad makes use of summer produce at its peak, and the variety of ingredients, the sweet and spicy pecans, and the fresh tarragon dressing make this something special. Adjust the proportions to your personal taste. I find the more colors in the salad, the more kids like it.
You can find Cajun spice mixture in the spice aisle of your favorite grocery store. Any variety works here. If you don't love tarragon, substitute parsley, cilantro, or dill. —Chef Cris
Ingredients
FOR THE SALAD
1 cup fresh corn kernels
Salt and freshly ground black pepper
½ pound green beans, trimmed
1 pound assorted summer lettuces, such as Bibb, romaine, and red leaf, well washed and dried
½ cucumber, peeled and cut into ½–inch cubes
2 mild radishes, such as breakfast radishes, trimmed and thinly sliced
1 ripe tomato, cut into ½–inch cubes
½ bell pepper, cut into ½ –inch cubes
3 to 4 scallions (white part only), chopped
FOR THE PECANS
½ cup pecan halves
1 tablespoon honey
1 ½ teaspoons brown sugar
1 ½ teaspoons melted unsalted butter
½ teaspoon Cajun spice mixture
FOR THE DRESSING
¼ cup white wine vinegar
Juice of 1 lemon
1 shallot, minced (about 1 tablespoon)
1 tablespoon chopped fresh tarragon leaves
½ cup extra-virgin olive oil
Salt and freshly ground black pepper
Cooking Directions
1. Make the salad: Spray a large skillet with cooking spray. Heat the pan over medium-high heat and add the corn kernels. Cook, stirring constantly, for about 5 minutes, until the corn is brown in spots. Season with salt and pepper and set aside.
2. Bring a medium saucepan of salted water to a boil. Add the green beans and cook for 1 to 3 minutes; be sure that you don't overcook them—they should still be a little bit crisp. Remove the beans with a slotted spoon and place in a bowl of ice water. Drain, pat dry, and slice into 1-inch pieces. Set aside.
3. Make the pecans: Preheat the oven to 250 degrees F. Line a rimmed baking sheet with foil and spray the foil with cooking spray. In a small bowl, toss together the pecans, honey, sugar, melted butter, and Cajun spice mixture. Place on the prepared baking sheet. Bake for 30 minutes, tossing the nuts every 10 minutes, until fragrant and caramelized. Set aside to cool.
4. Make the dressing: In a small bowl, combine the vinegar, lemon juice, shallot, and tarragon. Slowly whisk in the olive oil. Season to taste.
5. In a large mixing bowl, place the salad greens, cucumber, radishes, tomatoes, bell pepper, green beans, corn, scallions, and spiced pecans. Pour the dressing over and toss lightly. Serve immediately.
"Reprinted from American Grown: The Story of the White House Kitchen Garden and Gardens Across America by Michelle Obama. Copyright © 2012. Published by Crown, a division of Random House, Inc."
This recipe was styled by chef Karen Pickus for Good Morning America.
Recipe Summary
Main Ingredients: fresh corn, green beans, assorted summer lettuces, radishes, pecans, vinegar
Course: Salad