Amy Green's Banana Carob Snack Cake
Try This Healthy Dessert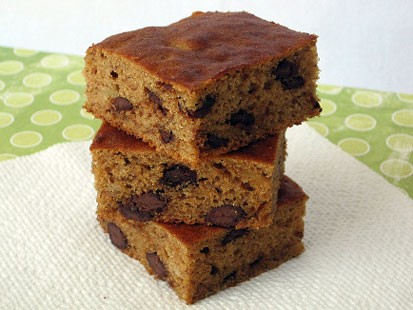 From the kitchen of Amy Green
Let's face it. We'd all like our kids to enjoy fruits and vegetables as much as they do dessert but that doesn't always happen. Why not give them a healthier snack that tastes like dessert? This cake is perfect for an after-school snack or a healthier dessert tucked into your child's lunchbox.
This cake low in fat but is still soft and moist from the ripe, mashed bananas. Instead of tossing over-ripe bananas, wrap them in plastic wrap and freeze them for recipes like this. You can also cut this cake into individual servings and freeze. Pack it in lunches while still frozen as it will thaw out by lunchtime.
Unsweetened carob chips are naturally sweet so there's no added refined sugar. If you can't find carob chips, use your favorite brand of chocolate chips.
Ingredients
1 1/2 cups fork mashed, ripe banana (about 3 medium bananas)
1/3 cup palm sugar
1/4 cup canola or grapeseed oil
1/4 cup 1% milk 2 large eggs
1 tablespoon vanilla extract
1 3/4 cups Basic Flour Blend (recipe below)
1 teaspoon baking soda
1 teaspoon cinnamon
1/2 teaspoon xanthan gum
1/4 teaspoon kosher salt
3/4 cup unsweetened carob chips
For Basic Flour Blend:
1 cup sorghum flour
1 cup garbanzo fava bean flour
1/2 cup potato starch
1/3 cup tapioca starch
Cooking Directions
Preheat oven to 350F. Lightly spray a 9×13 inch baking dish with cooking spray.
In a medium mixing bowl, whisk together mashed banana, palm sugar, oil, milk, eggs, and vanilla extract. In a separate bowl, whisk together the flour blend, baking soda, cinnamon, xanthan gum, and salt. Dump dry ingredients onto wet ingredients and mix until combined. Stir in carob chips.
Pour batter into the prepared pan. Bake for 15 – 18 minutes until snack cake is firm and a toothpick tests clean. Let cool completely in baking pan on a wire rack before slicing. Freeze individual pieces for an easy snack for lunches, enjoy with a cup of afternoon tea, or serve as a breakfast cake.
For Basic Flour Blend:
Mix well; store in an airtight container in the refrigerator.
Recipe courtesy of Amy Green of Simply Sugar and Gluten Free.
Recipe Summary
Main Ingredients: banana, baking soda, cinnamon, sorghum flour, garbanzo bean flour
Course: Snack
More Info: Kid Friendly, Wheat/Gluten Free, Sugar Free, Low Fat