Amy Green's Gluten-Free Chocolate Cream Pie
Try This Creamy Chocolatey Treat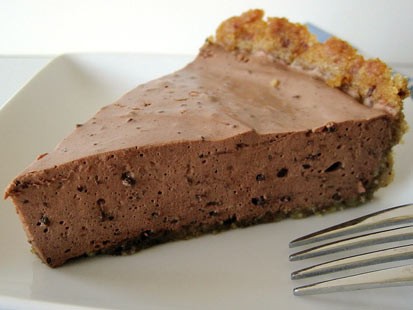 From the kitchen of Amy Green
Chocolate and walnut is a classic flavor pairing, so I didn't think twice about pouring this filling into a luscious nut crust. This pie is perfect for the holidays, especially because you can make it ahead of time. I use unsweetened carob chips because they don't contain refined sugar. If you can't find them, substitute your favorite low-sugar chocolate chip.
As far as gluten-free pie crusts go, this couldn't be easier or more versatile. I first learned about them in an 1947 cookbook given to my by my mother-in-law. Use this in a pie pan, as a crust for bar cookies, or press into the bottom of ramekins to make a stunning individual desserts.
Recipe courtesy of Amy Green of "Simple Sugar & Gluten-Free"
Ingredients
3/4 cup low-fat milk
1 packet (about 21/4 teaspoons) unflavored gelatin
1/4 cup agave nectar
1/4 cup Dutch-processed cocoa powder
1 teaspoon vanilla extract
1/2 teaspoon instant decaf coffee granules
1 cup heavy whipping cream
1 handful unsweetened carob chips, grated or finely chopped
1 (8- or 9-inch) walnut pie crust, baked and cooled
For the walnut pie crust:
2 cups pecans or walnuts
3 large pitted Medjool dates
2 tablespoons unsalted butter, melted
pinch of salt
Cooking Directions
For the walnut crust:
Preheat the oven to 350F. Spray an 8- or 9-inch tart pan or pie pan with cooking spray.
In the bowl of a food processor, pulse the pecans and dates until finely chopped. Add the melted butter and process until a dough forms. Press the dough into the prepared pan. Bake for 10 to 15 minutes, until light golden brown. The crust will puff slightly. Let the crust cool completely before filling.
For the filling:
Pour the milk into a medium saucepan and sprinkle it with the gelatin. Let sit for a few minutes to soften the gelatin, then heat the mixture over medium-low heat and stir in the agave. Whisk in the cocoa powder, vanilla, and coffee granules. Let the mixture heat until it nearly boils, then remove from the heat and strain through a fine-mesh strainer into a heatproof bowl.
Cover and refrigerate for 20 minutes, or until cooled and slightly thickened. It should be the consistency of runny pudding. Don't chill it too long or it will be too thick to incorporate whipped cream. (Note:
If by chance your chocolate mixture gets too thick, use an immersion blender or a regular blender to smooth it out.)
While the chocolate mixture is chilling, whip the heavy cream using a stand mixer or handheld mixer on medium high speed until stiff peaks form. Cover and refrigerate until the chocolate mixture has cooled and thickened.
Stir one-fourth of the whipped cream right into the chocolate. Fold the remaining cream into the chocolate in 2 or 3 additions, adding more when the previous addition has started to incorporate. Once you add the last of the cream, sprinkle the carob chips over the mousse and fold them in. Resist the temptation to stir. Just keep folding until the mousse is homogeneous.
Turn into the cooled pie crust, cover, and chill for several hours or overnight.
Recipe courtesy of Amy Green of "Simple Sugar & Gluten-Free"
Recipe Summary
Main Ingredients: dates, walnuts, gelatin, agave, carob
Course: Dessert
More Info: Kid Friendly