Amy Green's Gluten-Free Cornbread Dressing
Try This For Your Gluten-Free Thanksgiving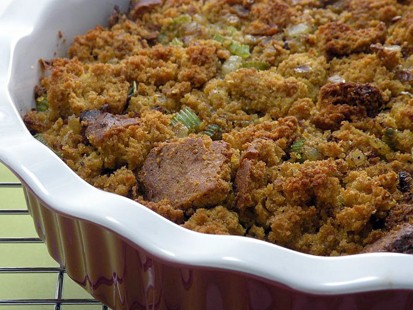 From the kitchen of Amy Green
Growing up, my favorite savory holiday dish was always my Grandma Ruth's dressing. I attempted to get her recipe, but she didn't have one. She cooked by sight, smell, and taste. Grandma did divulge the process in ingredients, though, this is my version. It's not exactly the same but it's just as good. This dressing makes a yearly appearance on our Thanksgiving table and there are rarely any leftovers.
Ingredients
1 recipe gluten-free cornbread (below), cut into 1 inch cubes and dried out (about 5 cups) **
3 tablespoons unsalted butter
1 medium onion, finely diced
2 ribs of celery sliced thin
1/2 teaspoon ground thyme
1/4 teaspoon ground, dried sage
1/4 teaspoon dried rosemary, crumbled
2/4 – 1 cup homemade chicken stock
1/4 cup water freshly ground black pepper
For the cornbread:
1 cup Amy's Basic Flour Blend
2 tablespoons coconut palm sugar
2 1/2 teaspoons baking powder
3/4 teaspoon xanthan gum
1/2 teaspoon salt
2 tablespoons non-hydrogenated vegetable shortening
3/4 cup cornmeal
1 cup buttermilk
2 large eggs
2 tablespoons unsalted butter, melted 1 tablespoon unsalted butter to grease pan
For the flour blend:
1 cup sorghum flour
1 cup garbanzo fava bean flour
1/2 cup potato starch
1/3 cup tapioca starch
Cooking Directions
**Note: You can dry the cornbread by chopping it into cubes, leaving it uncovered, and let it sit out until it's stale. Or, you can dry it in a 325 degree oven. My grandma taught me that the secret to a really good dressing is to start with really dry, stale bread, so I do both. I make the cornbread a couple of days before I need to make the stuffing, and after it cools I cut in into cubes, and leave it out to dry. If it still isn't good and stale, I let it dry a little longer in the oven while I'm prepping the other ingredients.
Preheat oven to 325 degrees F.
Melt butter over medium low heat. Add onion and celery. Cook for 5 minutes, then add spices. Cook for another 5 minutes or until celery is tender. Remove from heat and place into a large bowl. Dump cornbread into the bowl. Add 3/4 cup chicken stock and 1/4 cup water. Gently mix so you don't tear up the bread. This is where you have to use your own judgment – you want the dressing to be wet but not soggy. You want just enough liquid so the bread can absorb it all but not so much that it's swimming in a puddle of broth.
Gently turn dressing into desired dish – I like my dressing thinner so I use a baking dish that lets me spread it out. Season the top with a few turns of the pepper mill. Cover and bake for 30 minutes. Uncover and bake another 30 minutes, until top is golden brown and crispy.
For the cornbread:
Preheat the oven to 400F. Place a 9 to 10 inch stoneware baking dish in the oven.
Whisk together flour blend, palm sugar, baking powder, xanthan gum, and salt. Use your fingers to cut the shortening into the flour mixture until it resembles the consistency of peas. Whisk in cornmeal. Set aside.
Whisk the buttermilk, eggs, and melted butter together. Place the last tablespoon of butter in the hot baking dish to melt while you finish mixing the ingredients.
Dump the wet ingredients into the dry and mix until just combined. Carefully remove the baking dish from the oven and swirl to coat the bottom and sides with the melted butter. Pour the cornbread batter into the hot dish and bake for 15 – 20 minutes, until the top is golden brown and it tests clean with a toothpick.
Let cool slightly before slicing. Serve warm with room temperature butter. Wrap and freeze leftovers.
For the basic flour blend:
Mix well; store in an airtight container in the refrigerator.
Recipe courtesy of Amy Green, founder of Simply Sugar & Gluten-Free.
Recipe Summary
Main Ingredients: pepper, cornmeal, buttermilk, eggs, butter, chicken stock
Course: Side Dish
More Info: Kid Friendly, Wheat/Gluten Free