Amy Green's Gluten-Free Pistachio Cranberry Biscotti
A Green and Red Treat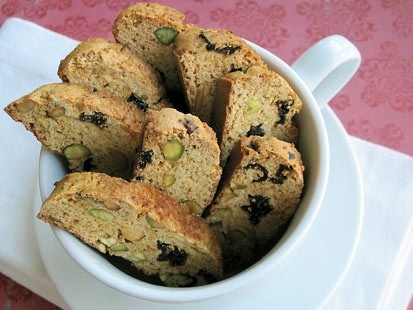 From the kitchen of Amy Green
|
Gluten-free biscotti are one of the simplest cookies to make. Maybe their appearance makes people think they're difficult, but they're not. Pistachios and cranberries are perfect for the holidays, but keep this recipe around. Substitute your favorite ingredients for the pistachios and cranberries for a anytime cookie that's perfect with your afternoon cup of coffee or dipped in ice cream.
Amy Green is the founder of the site Simply Sugar & Gluten-Free.
Ingredients
2 tablespoons unsalted butter, melted
1/3 cup agave nectar
2 1/3 cup Basic Flour Blend
1 teaspoon baking powder
½ teaspoon xanthan gum
pinch of kosher salt
2 large eggs
½ teaspoon vanilla
½ cup pistachios, roughly chopped
1/4 cup fruit juice sweetened dried cranberries palm sugar for sprinkling
For the basic flour blend:
1 cup sorghum flour
1 cup garbanzo fava bean flour
1/2 cup potato starch
1/3 cup tapioca starch
Cooking Directions
Preheat the oven to 325F. Line a baking sheet with a silicone baking mat or parchment paper.
Place melted butter and agave nectar in the bowl of a stand mixer fitted with the paddle attachment. Mix on medium for two minutes, until combined and uniform in color. Meanwhile, put the flour, baking powder, xanthan gum, and kosher salt into a mixing bowl and whisk until uniform.
Add eggs one at a time, mixing well between each addition. Add vanilla and mix. Add flour in one addition and stir until almost mixed. Add pistachios and cranberries and stir just until combined.
Use wet hands to form into two logs, each about 12 inches long and three inches wide. Sprinkle the tops of the logs generously with palm sugar and press lightly into the dough. Bake for 20 – 25 minutes, until the log is set and brown. Remove from oven and let cool for 15 to 20 minutes. Turn the oven down to 300F.
Slice biscotti into ½ inch pieces with a sharp, serrated knife at a 45 degree angle. Lay flat on the cookie sheet and return to the oven for 12 – 15 minutes until lightly browned. Flip cookies and bake for another 12 – 15 minutes. Biscotti should be firm all over and yield very slightly to gentle pressure in the center. Let cool on a wire rack. Store at room temperature in an airtight container for up to two weeks.
For the basic flour blend:
Mix well; store in an airtight container in the refrigerator.
Recipe courtesy Amy Green.
Other Recipes That You Might Like