Amy Green's Gluten-Free Spritz Cookies
Christmas Cookies Get a Gluten-Free Update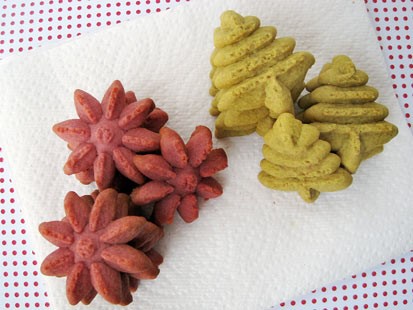 From the kitchen of Amy Green
Who knew that using a cookie press to make gluten-free Christmas cookies could be so much fun? You squeeze the trigger, the gun clicks, you lift it from the cookie sheet and right in front of you is a perfectly formed gluten-free cookie. It's like magic.
These were a favorite of mine from my childhood. My mom had an electric cookie press and she could knock out spritz cookies like nobody's business. Once in a while it clogged and she'd silently curse the thing. But everyone loved her spritz cookies, including me.
Amy Green is the founder of the site Simply Sugar & Gluten-Free.
Ingredients
1/2 cup (1stick) unsalted butter, at room temperature
1/2 cup non-hydrogenated vegetable shortening
2/3 cup powdered palm sugar* *see instructions*
1 large egg
1 large egg yolk
1 teaspoon vanilla extract
2 1/2 cups Basic Flour Blend
3/4 teaspoon xanthan gum natural food coloring, such as India Tree
For the basic flour blend:
1 cup sorghum flour
1 cup garbanzo fava bean flour
1/2 cup potato starch
1/3 cup tapioca starch
Cooking Directions
Preheat the oven to 375°F. Line a baking sheet with parchment paper or a silicone baking mat.
Beat the butter in a stand mixer fitted with the paddle attachment until light and fluffy.
Add the shortening and beat for several more minutes, until fluffy. Add the powdered palm sugar to the fluffy butter mixture and cream until light and fluffy. Mix in the egg, egg yolk, and vanilla. Scrape bowl as necessary.
Whisk together the flour blend and xanthan gum. Add flour to butter mixture in one addition and mix on the lowest speed until combined. If using, add food coloring to achieve desired color. If you want to make more than one color, divide the dough in half before adding color. Mix color into dough.
Fill cookie press with dough, add desired disc, and press cookies onto lined baking sheet. Bake for 8 – 10 minutes, rotating tray 180 degrees after 5 minutes. Bake until cookies are just set but not yet brown. Store in an airtight container at room temperature.
*To make Powdered Palm Sugar: Put one cup palm sugar with one tablespoon cornstarch in your high powered blender and whirl on high speed until powdered, about 2 minutes. If you don't have a Vita-Mix, make 1/2 of the recipe at a time in a clean coffee grinder. Store leftovers in an airtight container. If it happens to clump, sift it before using.
For the basic flour blend:
Mix well; store in an airtight container in the refrigerator.
Recipe courtesy Amy Green.
Recipe Summary
Main Ingredients: butter, egg, potato starch, vanilla extract
Course: Cookies
More Info: Kid Friendly, Wheat/Gluten Free, Sugar Free