Amy Green's Roasted Pumpkin Seeds
Try This Crunchy Snack Today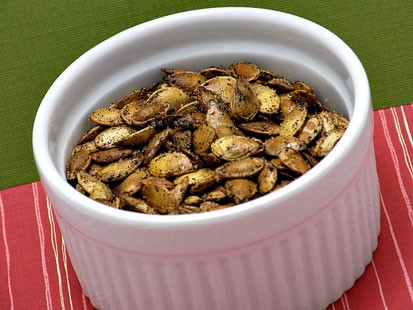 From the kitchen of Amy Green
You can roast any type of winter squash seed - pumpkin, acorn, butternut, spaghetti. I like to save the seeds as I cook different varieties of squash and roast a big batch all at once.
I use the roasted seeds on salads, in trail mixes, or just as a snack by themselves. The spice mix can be varied depending on your taste preferences or who you're serving.
Note that this recipe is based on 3 cups of seeds. You may have more or less, so adjust the recipe accordingly.
Ingredients
3 cups of dried pumpkin seeds or other winter squash seeds
2 tablespoons canola or grapeseed oil, or just enough to coat the seeds
1 teaspoon ancho chili powder
1 teaspoon kosher salt
1 teaspoon paprika
1/2 teaspoon cinnamon
Cooking Directions
Preheat your oven to 375 degrees F. Line a baking sheet large enough to accommodate the seeds in a single layer with parchment paper.
Put the seeds in a medium bowl and toss them in just enough oil to coat them. Combine the chili powder, salt, paprika, and cinnamon in a small bowl. Sprinkle the seeds with the spices, toss to coat, and transfer to prepared baking sheet.
Bake for 10 minutes or so until they've almost reached the desired crispness, stirring every 5 minutes. Take them out a couple of minutes before you think they're done – they'll continue to cook once removed from the oven. Watch carefully because they cook quickly. Place baking sheet on wire rack to cool. Store in an airtight container at room temperature.
Recipe courtesy of Amy Green of Simply Sugar and Gluten Free.
Recipe Summary
Main Ingredients: squash seeds, kosher salt, paprika, chili powder
Course: Snack
More Info: Kid Friendly, Vegetarian, Wheat/Gluten Free, Low Fat