Amy's Rehabbed Pumpkin Swirl Cheesecake
Swirled Cheesecake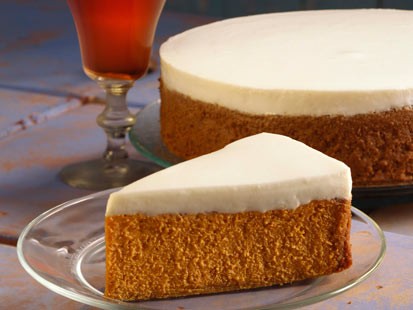 From the kitchen of Danny Boome
|
Part-skim ricotta and Greek yogurt add creaminess and flavor without the fat.
Ingredients
Cooking spray
For the crust:
1/3 cup (about 7 cookies) reduced-fat gingersnap cookie crumbs
For the filling:
1 cup part-skim ricotta cheese
1 1/2 cups Neufchatel cream cheese, softened
1/3 cup granulated sugar
4 tablespoons flour, separated
1 large egg
2 large egg whites
1/2 cup fat free Greek-style yogurt
1 teaspoons vanilla
1 teaspoon finely grated lemon zest
3/4 cup pure pumpkin puree
1 tablespoon dark brown sugar
1 teaspoon finely grated fresh ginger
1 teaspoon ground cinnamon
1/2 teaspoon freshly grated nutmeg
Cooking Directions
Preheat oven to 350F. Liberally coat an 8-inch spring-form pan with cooking spray.
Crust: Sprinkle crumbs into pan, shaking into an even layer.
Filling: Puree ricotta cheese in a food processor until smooth. Add cream cheese, sugar and 2 tablespoons of the flour; process until smooth, scraping down sides of bowl. Add egg, egg whites, yogurt, vanilla and lemon zest; blend well. Spoon half the batter into a separate bowl. To the remaining batter, add pumpkin, brown sugar, fresh ginger, cinnamon, nutmeg and remaining 2 tablespoons flour; blend well.
Pour about 1 cup of the non-pumpkin filling into the center of the crust. Pour 1 cup pumpkin filling into the center of the non-pumpkin filling. Alternate the remaining batters in the same manner; concentric circles will form as they spread. To create a marbled effect, gently swirl a knife or skewer through the fillings.
Bake until the cake is set but the center still jiggles, about 50 minutes. Remove the cake from the oven and transfer to a rack. Run a knife around the edge of the pan. Cool completely. Chill until firm. Serves 10.
Nutritional Information (per serving)
Calories: 211
Saturated Fat: 7 g
Sodium: 215 mg
Dietary Fiber: 1 g
Total Fat: 11 g
Carbs: 19 g
Cholesterol: 56 mg
Protein: 9 g
Calories from Fat: 99 cal
Trans Fatty Acid: 0 g
Total Sugars: 12
Recipe courtesy Danny Boome.
This recipe was styled by chef Karen Pickus for Good Morning America.
Other Recipes That You Might Like