Anne Burrell's Killer Mac & Cheese with Bacon
The Ultimate Mac and Cheese Recipe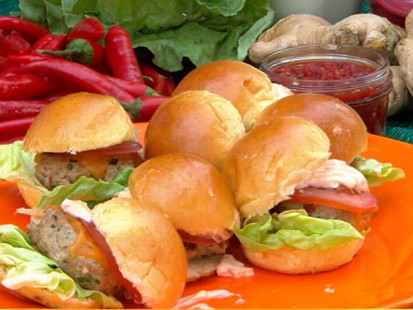 Anne Burrell cooks up some tasty foods to eat while watching the big game.
From the kitchen of Anne Burrell
|
Try this killer mac and cheese with bacon recipe for "Good Morning America."
Ingredients
Extra virgin olive oil
6 slices bacon, cut crosswise into 1/2-inch strips
3 tablespoons unsalted butter
1 onion, cut into 1/4-inch dice
Kosher salt
1/2 cup all-purpose flour
1 quart whole milk, plus more as needed
1 pound shells or other short pasta
2 cups freshly grated Cheddar cheese
2 cups freshly grated Fontina cheese
1 cup freshly grated Parmigiano
1/4 cup Dijon mustard
Tabasco or other hot sauce, to taste
Cooking Directions
Drizzle a bit of olive oil in a large saucepan, add the bacon, and bring the pan to medium heat; stir the bacon occasionally. When it's brown and crispy, 6 to 8 minutes, remove it from the pan, drain on paper towels, and reserve that deliciousness. Do not discard the bacon fat!
Add the butter and onion to the pan with the fat, season with salt, and cook until the onion is soft and aromatic, 8 to 10 minutes. Add the flour and cook, stirring frequently, for 4 to 5 minutes or until the mixture looks like wet sand. Slowly whisk in the milk, season with salt, bring to a boil (BTB), and reduce to a simmer (RTS); cook over low heat for 8 to 10 minutes more or until the mixture is slightly thicker than heavy cream.
In the meanwhile, bring a large pot of well-salted water to a boil. Add the pasta to the boiling water and cook for 1 minute less than the instructions on the package suggest. Taste it: It should be toothsome with just a little nugget of hard pasta still in the center—this is al dente. Drain the pasta and reserve.
Add the Cheddar, Fontina, and Parmigiano to the milk mixture and whisk to combine. Add the mustard and a few shakes of Tabasco; taste and adjust the seasoning if needed, adding a little more milk if the mixture seems too thick. Stir in the cooked bacon and pasta. The mixture should be very creamy and flavorful. Serve immediately or transfer to a baking dish or ramekins and reheat in a 375°F oven.
Recipe courtesy Anne Burrell.
This recipe was styled by chef Karen Pickus for Good Morning America.
Other Recipes That You Might Like