Apple Crisp Mini Pies
A Country-Style Sweet Treat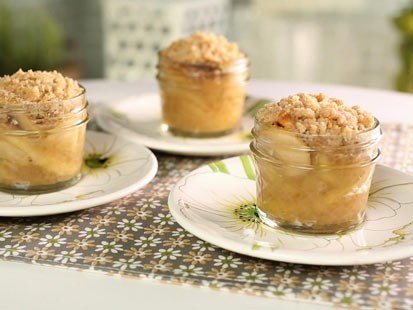 From the kitchen of Little Big Town's Kimberly Schlapman
|
Kimberly Schlapman of the Grammy-nominated country group Little Big Town shares her recipe for homeade apple crisp mini pies. The sweet mini pies are the perfect treat for fall.
Schlapman's new cooking show, "Kimberly's Simply Southern," premieres on GAC Saturday, Sept. 22 at 1pm ET.
Ingredients
1 tbsp unsalted butter
2 tbsp water
4 Granny Smith Apples, cored and sliced
1/4 cup brown sugar
1/4 cup sugar
1 tbsp tapioca
1 tbsp self-rising flour
For the Topping:
1 cup sugar
1 1/4 cups self-rising flour
1 stick unsalted butter, cold
1 tsp cinnamon
1 tsp allspice
1/2 tsp nutmeg
Cooking Directions
Heat oven to 350 degrees.
In a large saute pan melt butter, water. Add the sliced apples and cook until apples are tender and release juices. Meanwhile, in separate bowl mix brown sugar, sugar, tapioca and self-rising flour. Place this mixture over apples and toss in pan.
Place all ingredients for the topping into a bowl. Using your fingers mix until well incorporated and mixture resembles crumbs.
Place apple mixture into mason jars. Place topping on apples and cook at 350 degrees for 25-30 minutes.
September is Hunger Action Month and Little Big Town has partnered with ConAgra Foods' Child Hunger Ends Here campaign to raise awareness on hunger issues in America. Click here for more information.
Other Recipes That You Might Like