Rockit Burger Bar's Apricot Turkey Burger
A Better Burger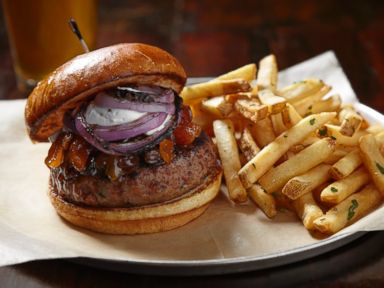 From the kitchen of Rockit Burger Bar
Rockit Burger Bar may have made headlines with the famous mac & cheese bun burger, but the Chicago restaurant is lightening things up just in time for your New Year's resolutions. The restaurant shared its apricot turkey burger recipe on "GMA LIVE!" this week to kick off 2014 in the most delicious way possible.
Ingredients
2 pounds lean ground turkey
1/4 cup minced carrot
1/4 cup minced celery
2 tablespoons thinly sliced scallions
1/4 teaspoon sriracha sauce
1/8 teaspoon fresh thyme, chopped
1 tablespoon butter
1 large egg, beaten
1/2 cup panko bread crumbs
1/4 teaspoon fresh ground black pepper
1/4 teaspoon kosher salt
Vegetable oil
4 slices red onion, ¼" thick
4 each hamburger buns, toasted
Apricot chutney (recipe below)
Whipped greek yogurt goat cheese (recipe below)
Cooking Directions
Heat a small nonstick sauté pan over medium heat. Add butter, once melted add the carrots and celery and sweat until almost tender. Add scallions and thyme and mix just until combined. Remove from heat and allow to cool. In a large bowl, combine the ground turkey, sriracha sauce, egg, bread crumbs, salt, pepper and the cooled vegetables. Form into 8 ounce patties about 1/2" in thickness. Chill burger patties at least one hour. Heat grill to medium heat and be sure it is clean and well-oiled with vegetable oil. Place turkey burgers on grill, turning once after 5 minutes and then flipping after an additional 5 minutes. Cook for another 8-10 minutes after flipping until cooked through and internal temperature reaches 160 degrees. Remove from grill. Lightly drizzle the sliced red onions with vegetable oil and a pinch of salt and black pepper. Grill red onions for approximately 2 minutes on each side, remove from heat.
To assemble: Place each cooked turkey burger on a toasted bun, top with one and a half tablespoons of apricot chutney each and one tablespoon of whipped greek yogurt goat cheese each and one slice of grilled red onion each. Serve!
Apricot Chutney
2 cups dried apricots, cut into 1/4s (strips)
1 cup golden raisins
1/2 cup apple cider vinegar
1/4 cup hot water
1/4 cup corn syrup
1/4 teaspoon ground nutmeg
1/8 teaspoon kosher salt
1/8 teaspoon ground black pepper
Combine all ingredients in a large sauce pan. Cook over low heat for 20-25 minutes, or until liquid begins to set. Chill.
Whipped Greek Yogurt Goat Cheese
1 cup soft goat cheese
1/4 cup plain greek yogurt
1 tablespoon heavy cream
Pinch kosher salt
Pinch fresh ground black pepper
Combine all ingredients.
Recipe courtesy of executive chef Amanda Downing of Rockit Burger Bar and Rockit Bar & Grill in Chicago.
Recipe Summary
Main Ingredients: ground turkey, sriracha, panko bread crumbs, greek yogurt, goat cheese, dried apricots
Course: Main Course