Eduardo Garcia's Arugula Salad with Chicken Sausage
Bionic Chef Bites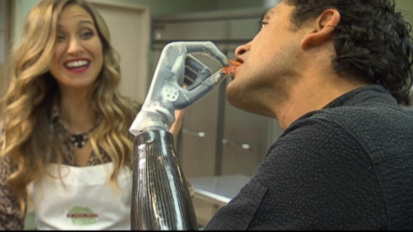 After suffering the loss of his hand in an electrocution accident, chef Garcia is back in the kitchen cooking.
From the kitchen of Eduardo Garcia
|
Chef Eduardo Garcia lost a hand in a freak accident, but didn't let that stop him from his chosen profession in the kitchen. After receiving a bionic hand implant, the chef can still make his way around a kitchen, and he proves it here with this delicious arugula salad with chicken sausage recipe.
Ingredients
1.5 pounds breakfast chicken sausage
1 pound arugula
2 ounces asiago cheese, fresh grated
½ fluid ounce infused lemon oil
Sea salt, to taste
Cooking Directions
In a sauté pan or 400 degree oven, cook the sausages until browned and cooked through. Wash and dry the arugula. In a bowl, toss the arugula with the asiago, lemon oil and sea salt, and serve over the sausages.
Recipe courtesy Eduardo Garcia
This recipe was styled by chef Karen Pickus for Good Morning America.
Other Recipes That You Might Like