Home
>
GMA
>
Wolfgang Puck's Arugula Salad with Tangerines, Asian Pear, Dried Cranberries and Toasted Almonds
Wolfgang Puck's Arugula Salad with Tangerines, Asian Pear, Dried Cranberries and Toasted Almonds
Lighten Up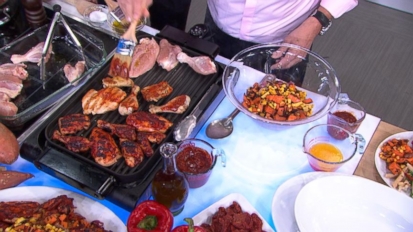 The famed chef "Makes It Healthy" in his first cookbook in 10 years.
From the kitchen of Wolfgang Puck
Wolfgang Puck, arguably the country's first celebrity chef, has built an empire on his brand of cooking that blends Californian and European cuisines. Now, he's lightening up some American favorites in his new book "Wolfgang Puck Makes It Healthy," and we've got his recipe for Arugula Salad with Tangerines, Asian Pear, Dried Cranberries and Toasted Almonds below.
Ingredients
Citrus-Ginger Vinaigrette:
1/2 cup fresh orange juice
1/2 cup fresh lemon juice
2 teaspoons very finely chopped fresh ginger
1/2 teaspoon powdered mustard
2 tablespoons extra-virgin olive oil
Kosher salt
Freshly ground black pepper
Arugula Salad:
1 pound baby arugula leaves
3 large tangerines or mandarins
2 Asian pears, cored, peeled, and cut into thick matchsticks, about
3 inches by ¼ inch
1/4 cup slivered almonds, toasted
1/2 cup dried cranberries
Kosher salt
Freshly ground black pepper
Cooking Directions
At least several hours ahead of time, prepare the Citrus-Ginger Vinaigrette:
In a small nonreactive saucepan, combine the orange and lemon juices, ginger, and mustard powder. Bring to a boil over medium heat, and then continue boiling until the juice has reduced to 1/4 cup, about 10 minutes. Remove from the heat and set aside to cool to room temperature.
Pour the cooled juice reduction into a bowl. Whisk the reduction briskly while drizzling in the olive oil. Season to taste with salt and pepper. Transfer the dressing to a covered container and refrigerate until ready to use.
About 2 hours in advance, prepare the Arugula Salad:
Fill a large bowl or basin with ice cubes and water. Rinse the arugula leaves under cold running water, and then immerse them in the ice water to make them extra crispy. Leave them to soak for 1 hour.
Drain them and pat thoroughly dry with a clean kitchen towel or paper towels. Transfer to a plastic bag or covered container and refrigerate until just before serving time.
Peel the tangerines or mandarins:
With the tip of a small, sharp knife, carefully slit the membrane on each of the segments; then, with your fingertips, assisted by the knife if necessary, peel off and discard the membranes. Put the segments in a bowl, cover, and refrigerate.
To serve:
A few minutes before serving, put the arugula leaves in a large salad bowl. Add half each of the tangerine segments, pear, toasted almonds, and cranberries. Add the dressing, season to taste with salt and pepper, and toss the salad thoroughly until the leaves are evenly coated. Leave the mixture in the salad bowl or transfer to an attractive serving bowl or individual bowls or plates. Garnish with the remaining tangerines, pears, almonds, and cranberries and serve.
Recipes from WOLFGANG PUCK MAKES IT HEALTHY. Copyright © 2014 by Wolfgang Puck Worldwide, Inc. Used with permission by Grand Central Publishing. All rights reserved.
This recipe was styled by Karen Pickus for Good Morning America.
Recipe Summary
Main Ingredients: orange juice, ginger, arugula, tangerines, asian pears, slivered almonds, dried cranberries
Course: Salad