Wolfgang Puck's autumn apple salad
Try this flavorful dish!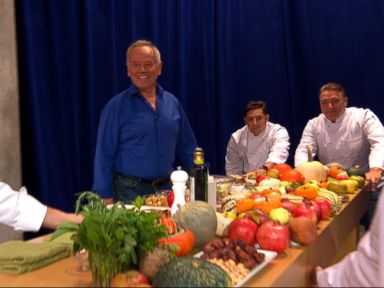 The celebrity chef is live on "GMA" to share his recipe for an autumn apple salad that is as easy to make as it is flavorful.
From the kitchen of Wolfgang Puck
Chef Wolfgang Puck appeared on "Good Morning America" to share his recipe for autumn apple salad. Puck, who will appear at the 2017 New York City Wine and Food Festival, uses the flavors of pomegranates, rosemary, dates and more for a flavorful dish. Try this seasonal treat in your kitchen!
Ingredients
1 each Delicata squash
1 T Olive oil
1 T Brown Sugar
1 clove Garlic
1 stick Rosemary
1 each 12 oz. chicken breast (seasoned to taste)
1 cup Pomegranate juice
For salad:
2 each Pink Lady or Fuji apple
1 Head Radicchio
1/2 head Fennel
1 cup Frisee
2 cups Arugula
1/4 cup Toasted marcona almonds
3 each Medjool dates, seeded and julienned
1/4 Cup Pomegranate seeds for salad, 1 T for garnish
2 T Parsley, torn leaves
2 T Chive sticks, cut to ½' batons
2 T Chervil sprigs
3 T Tuscan olive oil
3 tsp Apple cider vinegar
1/2 tsp Fleur de sel
1 tsp Fresh ground black pepper
Juice from ½ Lemon
Cooking Directions
Grill chicken breast over medium heat until cooked through.
In a medium pan over high heat add crushed garlic clove, squash and rosemary. Heat until squash begins to caramelize and place in 450 degree F oven.
Cook for five minutes until squash is tender all the way through and add sugar. Caramelize sugar and remove squash from pan and cool.
Over a medium bowl, slice apple on Madeline with julienne attachment. Repeat with fennel. Add remaining ingredients. Adjust seasoning to taste.
Place a layer of salad in the center of a round plate. Layer in cooked squash as you build the salad.
Then top with the final layer of salad.
Slice chicken very thin and fan around the plate.
Ring the salad with a drizzle of Tuscan olive oil, pomegranate seeds and pomegranate glaze.
Recipe courtesy Wolfgang Puck.
Food styling by Karen Pickus for "Good Morning America."
Recipe Summary
Main Ingredients: squash, apple, almonds, dates, chicken breast, olive oil dates, pomegranate seeds
Course: Lunch, Dinner, Side Dish, Salad, Vegetable