Emeril Lagasse's Baby Back Ribs with Community Coffee BBQ Sauce
Slathered in Coffee and Jalapenos for a Super Kick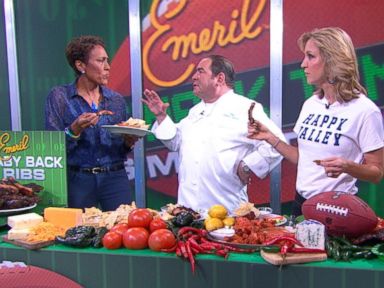 Celebrity chef Emeril Lagasse delivers his unique take on classic snacks for the big game.
From the kitchen of Emeril Lagasse
Kick off your Super Bowl party with these oven-baked baby back ribs, slathered in Community Coffee or any good dark roast from Emeril Lagasse.
Ingredients
Four 2 1/4 pound slabs baby back ribs
3 tablespoons Emeril's Essence Creole Seasoning
1/2 cup unsalted butter
2 cups finely diced yellow onions
2 jalapenos, stemmed, seeded and minced
1 tablespoon minced garlic
4 cups brewed Community Coffee
2 cups ketchup
1/2 cup light brown sugar
1/2 cup molasses
1/4 chipotles in adobo
1 tablespoon minced garlic
2 teaspoons red chili flakes
Cooking Directions
Preheat the oven to 325 degrees F.
Season the ribs with 2 tablespoons of creole seasoning. Wrap the ribs in parchment paper and then in aluminum foil and place on a rack on a sheet pan. Roast the ribs until tender about 2 1/2 to 3 hours. Set the ribs aside to cool.
In a large sauce pan over medium heat, melt the butter. Once hot and bubbling add the onion, jalapenos and garlic and cook until the vegetables are soft, about 10 minutes.
Add the coffee to the pan and cook until the liquid has reduced by half.
Add the remaining ingredients and stir well to combine. Continue to cook for another 30 minutes. Remove the sauce from the heat and set aside.
Preheat the grill on high heat.
Generously brush the ribs with the barbecue sauce and transfer the ribs to the grill. Cook the ribs for 3 minutes per side. Transfer the ribs from the grill to a platter and serve with the sauce.
Recipe courtesy Emeril Lagasse, copyright MSLO, Inc., all rights reserved.
Recipe Summary
Main Ingredients: baby back ribs, unsalted butter, yellow onion, jalapenos, garlic, brewed coffee, ketchup
Course: Dinner, Appetizer/Starter, Party Platter, Main Course